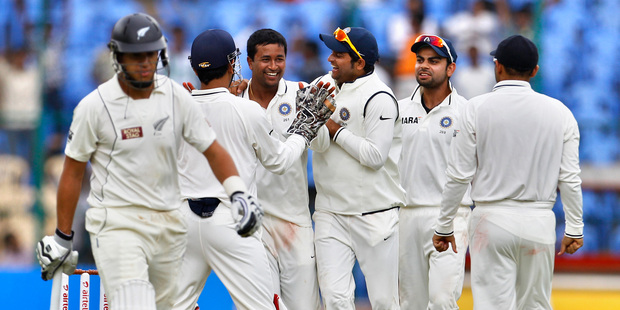 Watching New Zealand batsmen face Indian spinners in their own conditions, it's almost as if they have never seen a ball turn before.
Questions spring to mind about what time, if any, the players take to formulate strategies for facing the troublesome tweakers.
It even leads some to wonder whether the players are listening to their coaches' advice.
Well, the batsmen have been facing a heavy diet of spin at practice, they do spend significant time devising game plans to both survive and score, and the coaches' words are indeed being heard.
So where does it all go wrong?
After quizzing a number of New Zealand players on the topic, a considerable portion of the problem appears to be in the top two inches.
Not to diminish the abilities of two spinners from India who followed the success of a West Indian pair but, even in home conditions, taking 36 of the last 60 New Zealand wickets to fall is an outlandish share.
The record speaks of batsmen heading to the crease, having watched many of their teammates succumb to spin, already beaten in their minds. It suggests all strategies and technique go out the window when six men are around the bat.
Above all, it tells of deficiencies not in technique but in mindset.
"I think most of it's in the mind," captain Ross Taylor admitted. "When you get bogged down, it puts a lot of pressure on you."
Taylor, who was dismissed by Ravi Ashwin twice in the first test, rebutted reports about batsmen being unable to take instruction but said that instruction might be forgotten when under fire.
The stress Taylor described came from a crowded sense of vision and a reduced flow of runs but, according to Brendon McCullum, the New Zealand batsmen have also been hindered by worrying about their wicket.
He agreed with Taylor about skill playing a small role, and argued there was always plenty of ability on show when working in the nets.
"All of us are pretty well trained at [facing spin] these days, but it's just about accessing those skills under pressure," McCullum said. "At times, we sort of suffocate our mindsets and we become a little bit paralysed by the fear of getting out.
"That reduces your ability to access your skills, hence some of the dismissals look as if we're a little bit deficient technically."
If the problem cannot be solved in the nets - where Twenty20 squad members Daniel Vettori and Ronnie Hira this week joined Jeetan Patel and Tarun Nethula to provide a substantial dose of spin - how do the batsmen stop the rot?
Taylor thought he and his teammates had to take a different approach when playing spin, especially when the heat is turned up.
"The more you get defensive, the more they're going to put people around the bat. We have to be brave and courageous in how we attack them and hopefully put pressure back on them."
James Franklin, one of the few New Zealanders to find success against spin in Hyderabad, stressed a simplistic approach.
"There's still going to be some balls that spin past the bat, but you've got to try to not worry about that too much and just focus on the ball that's coming down each time."
Whatever the solution, one thing is clear - if it remains elusive so, too, will New Zealand's next test victory.
- APNZ