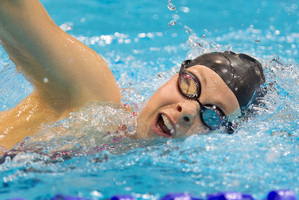 Swimming officials are set to push the potential angle when they present their case for continued high-performance funding later this year.
This makes sense as they can hardly argue that the results from the London Olympic Games were a ringing endorsement of what was done in the leadup to the Games.
Only the outstanding Lauren Boyle (three times, once in a heat) and Glenn Snyders (twice) set individual national records in London, while the women's 4 x 200m freestyle quartet trimmed .63s off the previous New Zealand mark. Out of a total of 19 events, considering personal best times are regarded as a key indicator in assessing performance, that is a weak return.
"We are undertaking an indepth review of the Olympic campaign," said acting chief executive Mark O'Connor.
Swimming New Zealand must take its proposals for funding to High Performance Sport New Zealand in November.
They'll have a hard job after London, although they will have a strong advocate in Alex Baumann, head of HPSNZ and a two-time Olympic swimming champion and world recordholder for Canada.
During the Games he spoke of the sport's potential, before a pile of below-par times were produced, and is hardly likely to resile from that view.
Swimming is one of six Olympic sports given favoured funding status over the last four-year cycle - athletics, triathlon, rowing, cycling and sailing the others. It's hard to argue they deserve to retain their place in that group.
SNZ is also busy getting its house in order.
Having accepted the Moller report into restructuring the sport's administration at a special general meeting in late July - at which all regions signed in favour of a new constitution other than its largest grouping, Auckland, and Nelson Marlborough who abstained - pieces are being put in place.
Chris Moller, chairman of New Zealand Cricket, and a former head of the same sport, Sir John Anderson, are on the independent appointments panel, charged with getting the governance sorted out.
After the previous board resigned, as per one of the Moller report's recommendations, Horst Miehe of Counties Manukau and Waikato's Simon Perry, were elected to the IAP, which is now shortlisting for a chairman.
The board will eventually comprise three nominated and three elected people and is due to be in place by late October. For the moment, SNZ is in a holding pattern, with O'Connor and governance administrator Sue Suckling managing the shop.
A key decision will be appointing a high performance director. SNZ hasn't had one since Jan Cameron stepped aside late last year. Rushdee Warley, who ran the Olympic campaign, is employed as a high-performance coach at HPSNZ, but SNZ's first choice for the high-performance boss withdrew at a late stage.
SNZ's biggest problem right now is perception; that it is a sport getting through a period of turmoil out of the water, underperforming in it. O'Connor accentuated the positive, confident the old enmity is in the past: "We now have an opportunity and I think everyone's bought into it. Everyone is wanting to move the sport forward."