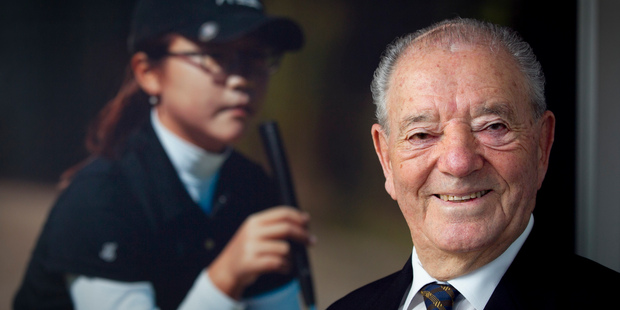 "Don't drop me in it - this article is supposed to be about Lydia," says Sir David Levene, in hope rather than with optimism.
The 83-year-old Milford businessman-investor-philanthropist was back trying to keep out of the news this week after golfing prodigy Lydia Ko's latest head-turner, a remarkable victory in the Canadian Open.
Sir David isn't exactly bankrolling the 15-year-old Ko - amateur golf regulations don't allow such extravagance. But since the beginning of the year, he has become the sole contributor to the New Zealand Golf-administered trust which covers Ko's expenses.
As the North Harbour sensation continues to astound the sports world, more of her life will be of interest, which has dragged Sir David out of the shadows.
The man who built and sold the Levene empire had a couple of motives for letting a few rays of the limelight land his way.
Firstly, he is an avowed fan of Ko - whom he often refers to as a "lovely little lady". And a Herald story will further publicise Gulf Harbour, the elite Whangaparaoa golf course he helped save which is now Ko's home club.
Sir David will be a hands-off but integral part of Ko and co until she turns professional, an example of the way his influence extends into all sorts of highways and byways, nooks and crannies in New Zealand life. His specialty is giving young entrepreneurs a start.
Exhibit enough of the right stuff and the father figure, mentor and backer steps in, often by taking a quarter or half share in the budding venture, and lending money to it at a low rate. New Zealanders famous and obscure are said to have benefited, or at least been given the chance to benefit, from his business brain and finance.
It doesn't stop there. Education is a particular interest - he backs many organisations, such as Great Potentials and Mates, the support programmes developed by Dame Lesley Max. A trust looks after registered charities while he takes on other projects in a private capacity.
"I had reasonable success and feel it's only fair to share it out in the community that has helped me," says a man still driven by the lessons he learned as a kid on inner-city Auckland's struggle street.
Making a buck may not have run in the family. His father Lewis, one of 13 children, made the initial decision to cast off from the northeast of England while on a night of merriment, miffed that his eldest brother had received their father's entire inheritance. The family clubbed together and raised a farewell gift of £20 ($40), a start-up which Lewis turned into loose change thanks to a dice game he operated on the ship voyage.
Lewis Levene and a brother, Mark, did their best to start little business operations but it was only when young David took control, and risks - inspired in part by American merchandising techniques - that a home decorating retail powerhouse and national icon began to take shape in the 1950s.
Sir David sold Levene - minus the properties - for $73 million in 1994 and a few years later came his first assist, when he joined a friend of his son's in a hot-house venture. The partnership survives, unlike the mail order business he backed which cost him "a few millions" after all commitments were honoured. "I've had some pretty good success and some failure - you don't win them all," he says.
"From my point of view, I'm very fortunate being able to mix with all these young people. They're not interested in my aches and pains and it keeps my mind reasonably active."
The aches include bung knees which have limited his long interest in playing golf to cart-friendly weather. His father played and Sir David has done the rounds, including as a founder member at Muriwai and ensuring "Gulf Harbour didn't turn into scrub".
And then along came Lydia Ko, the world's top amateur who is the youngest winner of a professional tournament in golf history, and also the youngest LPGA winner following her victory in Vancouver this week.
Sir David says: "We swap emails a bit and that sort of thing - I don't like to worry her or in any way suggest that I'm doing her favours.
"I'm just so proud of the kid - she's an absolutely lovely little person. I was so chuffed when she won the Canadian Open but I've been chuffed with everything she has done.
"I know diddly-squat about golf but I think she must be able to focus so well. A lot of people who focus are focusing the whole time but she jigs along and when she gets to the shots, then she really hones in.
"She's very intelligent. I understand she's not at school a hell of a lot but she got 99 per cent for maths or something like that.
"If she can keep her present plans going forward as an amateur for a few years I have every hope she'll be a very successful professional and make her life in golf.
"She enjoys the competition and what comes with it, and is more and more comfortable with the interviews, something I don't enjoy."
Billie, his wife of 48 years, passed away five years ago. He has a new partner and, of course, an eye on new partnerships. "Never retire," is his mantra, and the way he does that has roots from long ago.
"I remember as a little boy in Ponsonby, Dad would come home and say to my mother 'there's no money this week - we've had to pay the Phillips and Impey account'. Mum was an orphan and I presume she got food from her aunts because I never went hungry. But there was a sense of unease and fear in the house.
"Because of those things, that background, the struggles they went through, they were always working for the underdog.
"Even in their circumstances, they looked after and helped others. I guess that's rubbed off on me. The fact is, I've done okay and it's only fair to share it around."