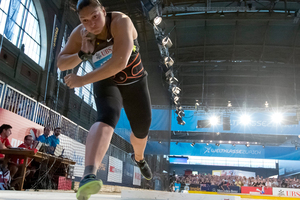 The events of the past month have seen Valerie Adams ride a particularly wild rollercoaster and it finally caught up with her when she collapsed on the eve of her latest competition.
It didn't seem to affect her performance as the 27-year-old easily won the final Diamond League meeting in Zurich overnight (NZT) to claim the overall series title.
In an amazingly consistent display, the two-time Olympic and three-time world champion heaved all six attempts out to between 20.36m and 20.81m and won the event by close to 1.5m from her nearest rival, American Michelle Carter.
She also took her unbeaten streak to 29, currently the longest by a woman in the sport and not far behind German Robert Harting's 32-meet run in the discus, and her best throw of 20.81m added 27cm to her previous indoor record of 20.54m.
But the last month has not been easy for an athlete who initially had to deal with losing her Olympic crown to longtime rival Nadzeya Ostapchuk only to win after Ostapchuk failed a drugs test.
"Today's result was pretty awesome considering yesterday I blacked out and was feeling really, really tired - almost drained," Adams told Newstalk ZB. "I suppose all the stresses and pressures hit me at once and all of a sudden I cramped up and fell to the ground and was trying to loosen up.
"But this is mind over matter, and the atmosphere you are trying to work in. Fortunately for us we were put in an amazing atmosphere and the crowd got you going and the scene with five Kiwi flags in the stand was enough."
The atmosphere in the Zurich train station, the venue for the competition, is one she is hoping to replicate at The Cloud on Auckland's waterfront next year. Adams felt the venue built for last year's Rugby World Cup could be a similarly unique environment if an international field of sufficient quality could be enticed to compete in Auckland.
"They could come up close and personal," Adams said. "As competitors, we want to throw as far as we can and I'm hoping like today it's what we can have in The Cloud. There were so many people there.
"I'm hoping in New Zealand we will be able to embrace this sort of competition, before I retire at least. I'm hoping next year this will all go forward."
As far as this year is concerned, Adams is nearly finished. She is due to compete in a world challenge meet in Rieti, Italy, on September 9 before rounding it out in Dakar, Senegal, three days later - although Adams was unsure whether it was still going ahead after recent flooding.
Victories in those events would edge her closer to equalling the world record of 32 consecutive athletics victories and it's not inconceivable she could break the record in Australasia.
Adams is due to return to New Zealand in the middle of September where she will spend most of the summer. It's likely she will be awarded the Olympic gold medal in this time, although details are still to be finalised with both the International Olympic Committee and New Zealand Olympic Committee.
Ostapchuk has until Monday to appeal the stripping of the gold - there's a growing feeling she won't appeal - and is required to hand back the medal.
"People congratulate me for being Olympic champion but I don't think I will really embrace it, believe it, until I receive the medal," Adams said. "I think I will probably get it at home and, when I do, I'm going to savour the moment and enjoy the national anthem and try to relive the moment I should have had at the Olympics, even though it won't be the same."
Adams will at least return home with one prize, even if it's not the one she wanted the most. She picked up US$40,000 and a diamond trophy for winning the Diamond League series.
- APNZ