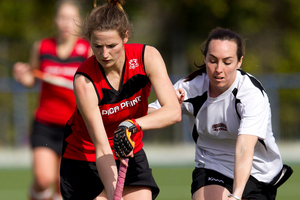 The goals continued to flow for the Auckland men as they surged back to the top of the table with a resounding 6-0 win over old rivals Canterbury at the National Hockey League last night.
Following their 10-0 first-round win over Northland, and a 4-0 result over Midlands a day later, Auckland have set the goalscoring pace while at the same time giving up just a fraction over a goal a game on defence.
With just a point separating Auckland, who stormed home with four unanswered second-half goals in yesterday's late game, and second-placed Capital, the stage is set for a thriller when the two teams meet in the round-robin decider in today's late (6pm) game. While that game will hold some interest, other games, too, will be under the microscope as the next five teams chase the remaining two semifinal spots in the Ford competition.
North Harbour are best placed in third and well aware a win or, at worst, a bonus point draw against Canterbury would get them into the top four.
But if Harbour lose, Midlands, Southern, Central and even Canterbury will have a chance of getting up.
North Harbour lost some ground in being held 2-2 by Capital and then losing the penalty shootout in which just one goal was scored.
Midlands, who hit the turf running in the day's first game to beat Northland 7-1, face the early test again today when they meet last year's co-winners Central at noon. Central would need to win and have other results go their way to progress whereas Midlands can realistically take themselves away from any equation by winning.
Southern remain an outside chance but in playing yet-to-win Northland they could sneak in.
The picture in the women's race is clearer with Canterbury and Auckland assured of the top two places - probably in that order - with the southerners needing only a point from today's game with middle-of-the-table Capital to claim round-robin honours and top seeding for Saturday's semifinals. Auckland meet North Harbour in the last round today with Harbour able to finish third if they win. Conversely, they could dip out of semifinal contention if they lose and Capital upset the Canterbury high-flyers.
It has been a great return to form for Canterbury with yesterday's sixth round win over North Harbour after leading 1-0 at halftime.
With Katie Glynn again on the scoresheet and Nicole Youngman bagging two, Auckland, with a fourth goal from Danielle Sutherland, scored two in each half to beat Southern 4-1 to book their semifinal spot.
Southern, Central (beaten 4-1 by Midlands yesterday) and Northland are out of semifinal contention.