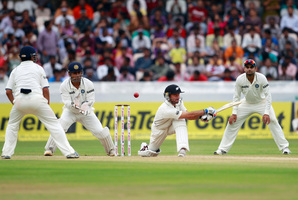 With only four days to find the solutions to the numerous problems plaguing their side, it would take a brave man to bet on New Zealand in the second test against India.
The innings and 115-run defeat in the first test in Hyderabad continued a worrying recent trend of under-performance for this test team.
Coming on the back of nine- and five-wicket losses to the West Indies, the hammering only further emphasises just how far this side sits behind the major test playing nations.
After conceding too many runs and being bundled out twice for scores under 200 in the opening match in Hyderabad, the Black Caps now have until Friday to find a remedy before the final test starts in Bangalore.
Unfortunately, Rome wasn't built in a day and the New Zealand batting line-up is unlikely to be fixed in four.
A top order collapse in the first innings in Hyderabad saw the tourists up against it early against a rampant home side, led by spinners Ravichandran Ashwin and Pragyan Ojha. They barely recovered before being dismissed for 159.
Their second innings demonstrated considerable more character - until Brendon McCullum became the second man out with the score on 98. From there, they folded like a deck chair, losing nine wickets for 66 runs.
All three defeats share the common factor of an inability to play spin and, unless Ashwin and Ojha come down with severe cases of Dehli belly, the stretch of futility will probably continue in Bangalore.
"Any time you're bowled out for 160 both times you've got to be disappointed," New Zealand captain Ross Taylor said. "We've got three or four days to rectify that.
"Obviously spin is an area we need to work on and come back harder and stronger for Bangalore."
Taylor, and undoubtedly his teammates, was torn between trying to erase the horror of Hyderabad as soon as possible and attempting to learn some lessons from the lashing.
New Zealand already knew spin was their weakness - Sunil Narine and Narsingh Deonarine had painted that picture by claiming 18 of 40 wickets in the Caribbean - so it's difficult to imagine what the Black Caps' batsmen can amend at this point.
Taylor thought much of the malaise was mental and, perhaps after an initial look, he hoped his charges could formulate and implement better game plans to counter the twin spin.
"I think most of it's in the mind," he said. "When you get bogged down, it puts a lot of pressure on you. It's all about rotating the strike and finding your single options.
"Come Bangalore, we need to be as positive as possible. Clear the mind, trust our defence, but also find a way of scoring some runs.
Not that it would help with the batting, but one thing New Zealand could do is include Tarun Nethula as a second spin option.
It is almost essential to have two spinners in this part of the world, and New Zealand did toy with the idea prior to the first test.
Seamers took only seven on the 30 wickets on offer in Hyderabad and it would be no surprise if that trend continued in Bangalore.
APNZ ks lb
- APNZ