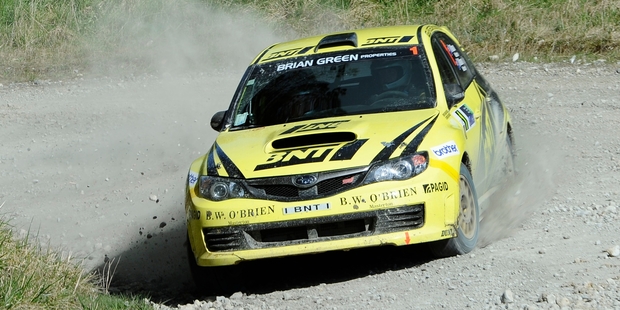 The final round of the New Zealand Rally Championship proved to be a bittersweet weekend for Richard Mason and his co-driving wife, Sara.
The couple arrived in Gisborne with a commanding lead in the Brian Green Property Group-sponsored national championship and clinched their fourth New Zealand title after the first day's racing.
Early on day one Emma Gilmour had the competitive edge over the field while Mason sat in seventh with a steering column problem. Later in the day Gilmour had brake problems, allowing Alex Kelsey to take the lead.
However, running out of fuel and having a clutch failure ended Kelsey's day, giving the lead to Chris West. But he then retired after damaging the front suspension, as did Gilmour.
A stage win by Mason moved him to the top of the leader board, where he remained.
"I really enjoyed the roads," Mason said. "They were twisty but not tight and that's how we like them - every corner was a challenge and grip levels were changeable.
"With the championship locked away, we can really relax and focus on stretching our current [NZRC] winning round sequence to four. And it would be awesome to wrap up this season with career win No23 that would move us clear of Neil Allport for the outright record."
Mason's good form did not continue, opening the door for Brian Green and co-driver Fleur Pedersen to win their first round title on home soil since 2001.
Despite missing two championship rounds this season because of overseas commitments, Green finished the season sixth overall. "We feel very happy, and I'm very tired," said Green. "The team's worked really hard and Fleur has done a great job in the car. We're extremely happy."
Mason had further extended his lead after the first two special stages on Sunday morning but was soon to retire. Midway through the 20.57km Ihungia stage he lost drive in the BNT Subaru STI through clutch failure.
A great finish by Ben Hunt, a former winner of the Rally of New Zealand-supported Rising Stars Scholarship, saw him secure the 2WD championship category despite missing the first half of the season.
Fight for V8 supremacy
The battle royal continues in the V8 Supercars' race for the championship with the two contenders, TeamVodafone and Ford Performance Racing, remaining the only teams to provide winning drivers this season.
Jamie Whincup, Craig Lowndes (TeamVodafone), Will Davison and Mark Winterbottom (FPR) are the only drivers to have stood on top of the podium this year and there's nothing in it after nine rounds, the latest over the weekend at the Sydney Motorsport Park.
Only one point separates championship leader Whincup from Winterbottom, who in turn is 121 points up on Davison, with hard-charging Lowndes a mere 32 points further back.
New Zealander Shane van Gisbergen is hanging tough in fifth but is a mighty 450 points behind Lowndes, who continued his blistering form, winning Saturday's race from Winterbottom and Davison.
A delaminating tyre dropped Whincup back to 23rd but he made amends in race two by winning from Lowndes and Winterbottom.
"I say this every year," said Whincup. "It comes down to a handful of points in the last race on the last day. It sounds like it's rigged but, trust me, it's not.
"It has been an absolute dogfight from the start of the year and I expect it to go right to the last race. I'm sure there will be a few different winners along the way but it all comes down to who is leading on the last lap in the last race."
Van Gisbergen had an average weekend, picking up a seventh and an 11th, while Fabian Coulthard picked up points with a 12th and a sixth finish to sit comfortably in eighth in the championship.
Dixon's rough ride
New Zealand IndyCar racer Scott Dixon's bizarre season continued in Sonoma, California, on Monday.
The Target Chip Ganassi Racing driver started fifth on the grid only to be spun by Helio Castroneves on the opening lap and put back to 15th.
Some solid driving and staying out of trouble saw the New Zealander climb back as high as sixth after the midpoint of the race, only to drop down to 18th after a drive-through penalty for running over pit equipment.
With just a handful of laps remaining, Dixon pulled the pin and clawed himself up to 13th by the chequered flag.
Ryan Briscoe pulled off his first win of the season.
He was followed home by series leader Will Power and Dixon's team-mate Dario Franchitti.
Theoretically, Dixon is still in with a chance of winning the title but realistically it's a long shot now.
The teams next turn a wheel in anger at the penultimate round in Baltimore on September 2.