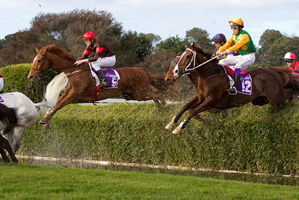 Here's the thing: if Shaun Phelan hadn't quite managed to stay in the saddle of Tom's Myth early at Ellerslie on Saturday, stablemate Ima Heroine probably could not win the $100,000 Great Northern Steeplechase on Saturday week.
Tom's Myth beat Ima Heroine by 2 lengths in Saturday's $35,000 Mad Butcher Pakuranga Hunt Cup after an early blunder and saved the little mare the embarrassment of a re-handicap for the upcoming big race.
Ima Heroine won the Pakuranga Hunt Cup last year carrying 63kg and won the Great Northern with just 63.5kg on her back.
She lumped 68.5kg on Saturday and had she won she might have been facing 69.5kg in the Great Northern, close to an impossible weight for a mare in such a gruelling contest with three trips over the Ellerslie Hill.
I say close to impossible, but impossible fits perfectly to describe the way Ima Heroine won both those feature races a year ago.
Rider Matthew Gillies said only the shorter distance on Saturday beat the plucky little mare.
"I'm sure if there'd been further to go she'd have won this one."
Gillies was surprised how fit Ima Heroine proved to be. "But I probably shouldn't have been because Mrs Browne told me she was fit after just one run this time in.
"She also jumped very well. She's been known to mix her jumping, but this time she was much more reliable."
Ann Browne, clearly excited by her quinella result, said the winner Tom's Myth was also greatly improved in the jumping department. "It's made a difference to him."
But as much as Tom's Myth might lay claim to being one of the main dangers in the Great Northern, the race looks to be Ima Heroine's again. Everything points to it.
"She's so relaxed around Ellerslie these days. You don't have to do anything on her, she does it all herself."
As on last Great Northern day, Matt Gillies has plenty to look forward to. His Great Northern Hurdles winner of last year, Southern Countess, looked hugely impressive winning the Tony Richards Toyota Hurdles despite misjudging the last fence and ploughing through it. "She is fitter than this time last year," said Gillies.
As in her big victory last year, Southern Countess was completely dominant.
"She gives you the feel she's the best horse in the race a long way out and she just keeps going."
There is the possibility of additional weight for Southern Countess for that win.
Ever thought about a horse freeze brand on your bum?
Hardly, but three years ago 20-year-old apprentice Erin Leighton actually signed a pledge that she would get one if and when she rode her first winner.
The brand was to read "1 /" over the number of rides it took to ride that first winner.
For three years Leighton rode only trackwork for her current boss Natalie Tanner, followed by stints at Flemington and in Adelaide.
But she began raceday riding a few weeks ago and kicked home Blue Streak to win at Ruakaka before winning on Rusty Devil at Ellerslie on Saturday.
"I posted on Facebook the declaration Erin, the vet who does our branding, and I signed at the time," said Natalie Tanner yesterday.
"Erin had completely forgotten about it, but she's a sport and went through with it. We had celebratory drinks in the city after Ellerslie then the branding was done when we got home."
And, no, Erin Leighton does not drink alcohol.
Freeze branding, used on harness horses, is performed with dry ice and the image, which turns pure white, is life-long.
"I actually didn't feel the brand being applied, but it's nicely blistered up today," Leighton told the Herald.
Few apprentices look to take a break from riding a few weeks after riding their first two winners, but that's what Leighton is looking at after winning on Rusty Devil.
Weight has been an issue and is the reason Leighton did not start riding until recently, and why she thinks her best option is to take a break now.
Having just ridden two winners in quick succession, all momentum will be lost, but Leighton is taking things seriously.
"If I take a break, get my weight under control then get back on my nutritional programme I figure I can be riding at the right weight."
Probably because of her age and strength, Leighton has a nice seat on a horse and did a faultless job on Rusty Devil.