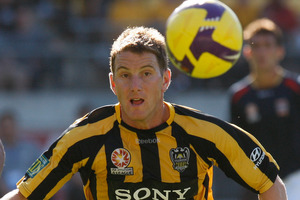 Assistant coach Chris Greenacre is looking for more of the same when the Wellington Phoenix take on Shillong Lajong in Imphal today.
Football mad locals are predicting that Shillong will provide sterner opposition for the Phoenix than URO United Sikkim did on Friday.
That game ended 3-0 in the Phoenix's favour, but the scoreline could have been much wider but for the Wellington team's wayward finishing and the efforts of United's Korean goalkeeper Yoon Tae.
There was much to admire about the Phoenix performance however, especially the speed they showed up front.
"That was really promising and if we can use our pace we will again create chances," Greenacre said.
"Things hadn't been ideal going into that first game, but the players were very professional and got through it together.
"The ground was far from ideal and deep down some of them might not have fancied being there, but we stressed they can't have negative thoughts. It had to be addressed positively, and it was.
"We started with senior players plus a couple of the youngsters and once we were in control it was possible to get other young ones on and they all did well."
Greenacre is growing into his new role as assistant coach and loving every minute of the challenge it is presenting.
"Working closely with Ricki, who is really hungry, is fantastic,"Greenacre said.
"His attention to detail is amazing and it is great to have Gouldie (goalkeeping coach Jonathan Gould) back at the club. I'm learning something every day and now really feel part of the backroom team."
Herbert will not name his starting line up till shortly before the game.
- APNZ