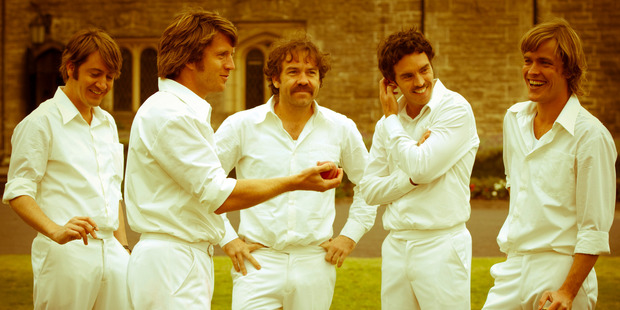 He's been cast to play cricketing greats from both sides of the Tasman and with all the practise he's getting, Kiwi actor Ryan O'Kane jokes he could be called up to rescue the Black Caps.
O'Kane's latest role is as Australian fast bowler Jeff Thomson in the big-budget teledrama Howzat! Kerry Packer's War, which is expected to reach New Zealand screens in a few months.
He also stars in upcoming Australian comedy movie Save Your Legs, in which cricketer Sir Richard Hadlee makes his acting debut in a cameo role.
"I think I'm going to get away from the acting and give the Black Caps a call," O'Kane says. "I find it hard to label it a job. They are paying me to go out and play a game of cricket."
Howzat charts the birth of professional cricket in the 1970s and is being touted as the Australian television event of this year.
Hardnosed entrepreneur Packer turned cricket on its head, introducing coloured uniforms and taking one-day cricket to the world, ultimately leading to the notorious underarm incident in 1981.
O'Kane took months to perfect the distinctive slingshot action of Thomson, who still holds the world record for the fastest delivery.
Playing a dyed-in-the-wool Aussie cricket hero was a challenge for O'Kane, who grew up with posters of the New Zealand cricket team on his wall.
"He had such a fearsome reputation," he says of Thomson. "He was called the 'sandshoe crusher' and used to do serious damage to batsmen back then."
Another Kiwi, Craig Hall, plays Packer's right-hand man.
Hadlee plays an umpire in Save Your Legs, a movie about Aussie battlers whose club cricket team travels to India to play.
Hadlee says his 30-second cameo took six hours to film and he wasn't paid. "You need a lot of patience. There were quite a lot of sequences. It just fitted in, there wasn't any fees or anything."
O'Kane also played cricketer Bob Blair in the telemovie Tangiwai.