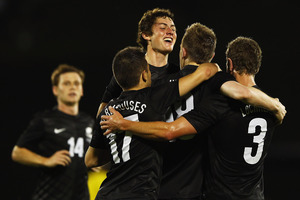 There will be no sackings after the All Whites' shock 2-0 loss to New Caledonia, after a review of the defeat by New Zealand Football.
The Honiara debacle - in the semifinal of the Oceania Nations Cup - was a major blow for their World Cup aspirations, as it cost the national body an estimated $1.4 million in lost income and meant the All Whites miss out on valuable matches at the Confederations Cup next year.
It called to mind the 2004 World Cup qualifying tournament in Adelaide, where the fallout from an upset loss to Vanuatu (which ended New Zealand's hopes of qualifying for the 2006 World Cup) saw coach Mick Waitt sacked.
The NZF review identified three major failings (scouting, tactical implementation and adapting to conditions) in the loss and CEO Grant McKavanagh admits the results and performances in Honiara were "unacceptable and below par". While there are major lessons to be learned from the campaign, he says there will be no changes to the management and coaching team.
"It wouldn't make sense to make wholesale changes at this stage," says McKavanagh. "It is too close to the start of the [World Cup] campaign and we are committed to the existing personnel through to the end of 2014.
"The management and staff are very clear on what is expected of them from now on. We had some very hard conversations during this whole process. They know my view and I know their view."
There wasn't much to like about the 'horror of Honiara'. It wasn't as if the team were undone by a lucky goal in a match where they missed a hatful of chances - the All Whites were outplayed in that semifinal, their first loss to New Caledonia since 1976.
Throughout the tournament, the team struggled for cohesion and fluency, with no discernible game plan to match the conditions or opposition, compounded by some unusual selection decisions by Ricki Herbert and his coaching team - including persisting with a three-man defensive line.
The three major failings - scouting, tactical implementation and adapting to conditions - emerged. He says that NZF "didn't do enough to understand the quality of opposition" before they arrived in Honiara.
No one was sent to the Pacific Games in 2011 (where all New Zealand's opponents were playing) and little video analysis was used.
There was a thought that assistant Neil Emblen had seen plenty of the players through his O-League experience with Waitakere United but there was also a general sense of complacency across the management team.
Once at the tournament, there was little time to get the technical and tactical programme across to the playing group. With matches played every second day, the players spent every other day recovering.
"There was no room for training sessions," says McKavanagh, "which gave no ability to implement tactics. In the future, we would be more hesitant to accept such a [playing] schedule and also we would have to make sure that tactics and strategy were well understood before such a tournament."
McKavanagh says that the tropical conditions in the Solomon Islands were even more extreme than first anticipated.
"We had a lot of players coming from cold environments, which wasn't ideal," says McKavanagh.
"We thought we had prepared as much as we could but maybe we could have done more. Certainly it is something to take into account for any similar situations in the future," he says,