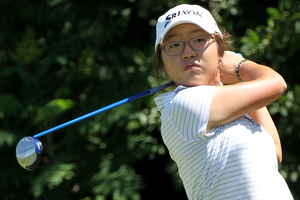 Lydia Ko. Photo / Supplied
For a player who admits she's really only playing for the experience, Lydia Ko sure is making the most of it.
The 15-year-old Kiwi is the world's No 1 women's golf amateur but she was in a share of the lead at the halfway stage of the Canadian Open on the LPGA Tour. It's a tournament that boasts some of the world's best women's golfers and Ko is surely on the way to taking her place among that group.
She backed up her opening-round 68 with a bogey-free 68 in the second round to climb into a share of the lead at eight under par with Chella Choi (64) of South Korea.
The pair hold a three-shot lead over four players on five under - Americans Moira Dunn and Angela Stanford and South Koreans Inbee Park and Na Yeon Choi.
Ko made nine-straight pars on the front nine at the Vancouver Golf Club and came home strongly with four birdies - three in succession from holes 12- 14 - to claim a share of the lead and the spotlight heading into the weekend.
"My goal was four under today, and I shot four under on the back nine which is good once again," Ko said. "And I did that yesterday as well.
"I think I really like the back nine, and hopefully it likes me, too."
Ko is playing in only her 10th professional event and third tournament on the LPGA Tour after the Australian and US Open. She is playing among many of the top players in the world and looking to become the first Kiwi golfer to win on the LPGA Tour.
"It's nerve-racking playing with the pros and actually playing against the pros," she admitted. "I'm really here for experience, and it's awesome to see what the pros can do.
"I am actually playing pretty good. I kind of lost confidence after my front nine. But my birdies on 12, 13 and 14 just made me go way up there.
"The only time I really looked at the leaderboard was on 15. Suddenly people with cameras were coming and I was like, 'are they actually going to take footage of me?' And I was like, 'oh, man'. I took a peak at the leaderboard and my name was at the top. It was like, 'oh, my God'."
Ko wowed the international media with her composure at the post-round press conference as she was quizzed on her plans to go to Stanford University and turn professional, what it's like playing with her idols like Michelle Wie and Lexi Thompson and how she finds time to fit in her schoolwork.
Ko believes she can win the Canadian Open. She took a lot of confidence from her win at the NSW Open - where she became the youngest winner of a professional golf event - and her performance in her major debut.
"At the US Open I shot 3-under 'til 15. That showed I was able to handle it along with the pros. That kind of gives me confidence. But New South Wales Open was a European Tour event, and the win helped me and gave me confidence that I could beat the pros. You never know what's going to win."
- APNZ