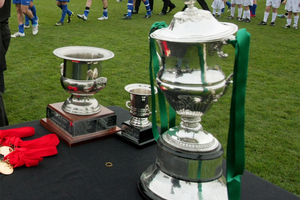 The Chatham Cup knockout football competition is one of New Zealand's longest running national sports events, having been contested annually since 1923. Tradition dictates that when your club is knocked out, you follow the fortunes of your victors - and in turn their conquerors - all the way to the final.
Join us on our own Cup odyssey this year, as we report on cup fortunes in a similar vein. We started with first-time entrant Hamilton's Clube Alegria in the qualification round, who were beaten 2-0 by Westlake Boys High. We then followed the schoolboys as they overcame Drury 4-1 in the first round, then Manurewa 7-2 in the second before their run ended with a 2-0 defeat to Birkenhead. We then followed Birkenhead as they overcame Wanderers 4-1 in the sweet 16 before losing to Lower Hutt 3-2 in the quarter final. We followed Lower Hutt as they beat Caversham 5-0 in the semi final and now preview their final against Central United on Sunday.
Qualifiers: Clube Alegria - New kids face off against schoolboys
First round: Big school vs little club
Second round: Divided loyalties
Third round: How good are Westlake Boys High?
Sweet 16 - Birkenhead's not so secret weapon
************************************
Has there ever been a bigger Chatham Cup final mismatch than the contest set for Newtown Park, Wellington on Sunday at 2.30pm?
Cup aristocrats Central United, who have contested six finals and taken the 89-year-old trophy home four times - most recently in 2005 and 2007 - face knockout final debutants and relative no-names Lower Hutt City in a real David and Goliath football tie.
If the weight of history is not enough, there is also the distinctive pedigree imbalance between the two squads.
Perhaps the best illustration of the gulf in experience came the day after both sides enjoyed Chatham Cup semi-final wins.
Central's proven side - stacked with four past and present All Whites and 11 proven national league players - returned after a long weekend away to their wives, partners and families in preparation for another week in the club's golden jubilee season.
By contrast, Lower Hutt coach Kevin McIntyre was faced with making sure five of his squad made it to school safely, after one of their first overnight football trips.
With Central United it is often difficult to tell where the winter club ends and stablemate national league club and Oceania champions Auckland City start. Only four of Central's travelling squad are not involved with the national league side.
But with Hutt the overlap that has to be juggled is midweek schoolboy football commitments, with six or seven of the squad due to play against each other in the final of the local school competition.
But for all the hot-favourite-versus-rank-underdog aspects, it is axiomatic of cup football that the "wrong" team often wins, so there will be no complacency from Central.
Coach Chris Zoricich was with the New Zealand team at the Olympics during the semi final, with two more former All Whites, Michael Ridenton and James Bannatyne, holding the fort while he was away.
"By all accounts they played really well," Zoricich said of the 6-0 hammering of Miramar Rangers.
"It was a big boost for the team to travel down there and win without conceding goals. There's a lot of confidence in the squad at the moment.
"We'll let the football do the talking."
Bannatyne watched Lower Hutt play last week and has returned with a comprehensive report about their danger players and how to combat them.
"There is a bit of pressure on us to win something this season with it being our 50th year... The league went pretty early and it made us concentrate on the Cup.
"I think the club would be fairly happy if we can bring the Chatham Cup back to the club. It was one of the goals at the start of the season."
Of the Auckland City connection, Zoricich said it had always been expected that after the summer commitments were finished a number of players would want to be involved.
"It was a case for most of them of coming back straight away. Others, such as Luis Corralles and Adam Dickinson, decided to have their holidays and then come back.
"But the others have all been there for quite a considerable time really. That's just the way it is at this club, there are a number of players that we use throughout the season."
Paul Urlovic picked up a knock last week, and will be touch and go, while Luis Corralles was also under a cloud but has trained this week and looked very sharp.
Meanwhile McIntyre was delighted with his team's semifinal win in Dunedin.
"It was bitterly cold, windy and wet - one of those days where it cut right through you, but we played against the wind in the first half and handled it really well, defended well and scored after 35 minutes.
"Caversham didn't use the wind as well as they possibly should have and didn't have too many shots at goal. In the second half we had the winds at our back and encouraged the boys to shoot and ended up comfortable winners.
"Sometimes you go away and things just click into place, and that's what happened for us.
"It's a hell of an achievement for the lads, especially when you factor in all the travel.
"On the Sunday night we stayed at the airport motel and we travelled home on the Monday morning. It wasn't until I was talking to the local press when it dawned on me how young our squad was. We had to drop of five kids at school that morning."
McIntyre said the Hutt Cup campaign had been amazing.
"Beating Central is going to be a big ask, but we have saved our best for the Cup all season. If we can give a good account of ourselves anything above that is a bonus.
"The game at Newton Park is great for our supporters, but sometimes an away trip can be an incentive for Central as well. They may feel a bit aggrieved because they have done a lot of travel themselves."
As for Central, he said the main thing was not to "read too much into the big names they will be bringing down".
"Ivan (Vicelich) is probably old enough to be most of the lads in our squads' dad. It's a real contrast and that's the real beauty of the Chatham Cup, it's the underdog - a really inexperienced side playing against a heavy favourite.
"I think there will be a lot of people around the country hoping the underdog pulls through, and that's what gives the Cup magic.
"We're going to get the lads into a hotel on the Saturday night, keep everyone together and watch the All Blacks game - help them share the load of the match build-up with each other."
And if Lower Hutt cause a boilover and win?
"The parents might have to help some of the lads get into the pub. Or I might be buying a round of L&P's."
85th ASB Chatham Cup final
Central United v Lower Hutt City
Newtown Park, Wellington
Sunday 26 August, 2012
Kickoff: 2.30pm
Tracking the Chatham Cup:
Qualification: Clube Alegria 0 - Westlake 2
Round One: Drury United 1 - Westlake 4
Round Two: Westlake 7 - Manurewa 2
Round Three: Birkenhead 2 - Westlake 0
Round Four: Birkenhead 4 - Wanderers 1
Quarterfinal: Birkenhead 2 - Lower Hutt 3
Semi final: Caversham 0 - Lower Hutt 5

Central United: (from) 1-Jacob SPOONLEY (GK), 3-Nick DALE, 4-Kris CARPENTER, 5-Takuya IWATA, 8-Jason HICKS, 9-Paul URLOVIC, 10-Stuart HOGG, 12-David MULLIGAN, 13-Adam DICKINSON, 14-Jacob HALL, 15-Ivan VICELICH (c), 16-Albert RIERA, 18-Daniel KOPRIVCIC, 19-Mauro RODRIGUEZ, 20-Emiliano TADE, 21-Riki VAN STEEDEN, 22-Blaz BUGARIN (GK)/Patrick GEORGE (GK) Coach: Chris ZORICICH
Lower Hutt City: (from): 1-Steve BAYARD (GK), 2-Caleb DUNCAN, 3-Jared MITCHELL, 4-James VERNON, 5-Hayden STUTHRIDGE, 6-Kade SCHRIJVERS, 7-Taban MAKOII, 8-Hamish PRICE, 9-Tobias BERTSCH, 10-Hamish WATSON (captain), 11-Cam LIDSTONE, 12-Jarrod SMITH, 13-Shaun MELROSE, 14-Jack IMRAY, 15-Martin PEREYRA, 18-Shaquille STERLING, 19-Taylor HALL-JONES, 20-Taylor SCHRIJVERS, 77-Andrew COAD. Coach: Brendan MCINTYRE