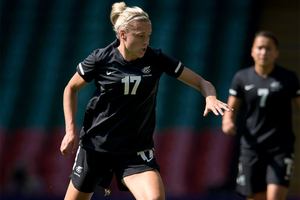 A monumental rearguard effort from the Junior Football Ferns has earned a hard-fought 2-2 draw with hosts Japan in Miyagi on Wednesday night and put them in touching distance of the quarterfinals at the FIFA U-20 Women's World Cup.
Backing up Sunday's opening 2-1 win over Switzerland the draw takes New Zealand to four points - behind Group A leaders Japan on goal difference - and needing a draw against Mexico on Sunday in Kobe to reach the knockout stages for the first time at an women's age group FIFA event.
New Zealand were under the screw for long periods but a combination of confidence from two early goals, desperate defence, world class goalkeeping and the ability to vary their style of play in the brief periods in possession got the Junior Ferns across the line for what may yet prove a very valuable point.
New Zealand raced to a shock 2-0 lead within the opening 15 minutes against one of the pre-tournament favourites with Hannah Wilkinson involved in both goals.
An 11th minute set piece fell to the imposing striker and although her shot was initially cleared off the line it was turned into her own net by Ayu Nakada.
Four minutes later Wilkinson capped a lung bursting run down the right win with a cross to Rosie White that the skipper spun on before firing a low shot back across goalkeeper Sakiko Ikeda to double the lead.
New Zealand grew into their lead as the half wore on and were beginning to gain parity in the possession stakes but Japan pulled a goal back eight minutes before halftime when Yoko Tanaka blocked Nadia Pearl's clearance then fired a shot that deflected off Bridgette Armstrong.
Despite the heroics of Kiwi stopper Erin Nayler in the second half the hosts finally drew level when Ayaka Michigami powered in a 12 yard header from a corner with 19 minutes to play.
The drama wasn't over as Holly Patterson managed to clear the ball off the line with six minutes remaining on the clock.
New Zealand coach Aaron McFarland said the memory of a 6-0 defeat for many of the squad's players against Japan in the 2010 U-17 Women's World Cup and his own experience of losing a knockout fixture by the same score in the men's U-17 tournament last year made today's result even more significant.
"The feeling is amazing in the camp. There was a lot of emotional baggage from previous bad experiences playing Japan so to get a result against them is an amazing confidence builder for our players and they are feeling ecstatic.
McFarland lauded the effort of all his players but reserved special praise for his goal scoring captain Rosie White and shot stopper Erin Nayler.
"The first was an own goal but it came from a set piece we'd been working on especially for this game and the second was a little bit of Rosie magic, but that's all you need. You may have been battered but if you put it in the net that's all that matters.
"Erin was first class. She pulled off probably three top draw saves and may still be disappointed to conceded at least one of those goals. Big compliments to the goalkeeping staff, she's definitely one for the future for our country.
New Zealand now move to Kobe where they meet Mexico on Sunday but the first task will be to recharge tired minds and bodies ahead of a playoff push.
"It's a great position to be in and one we don't experience very often. They've worked their socks off attempting to get this point. Fortunately they've got an extra rest day before Mexico and we'll need it."
Mexico beat Switzerland 2-0 in the group's earlier kickoff to eliminate the Swiss and keep their own hopes alive while in Group B, Nigeria stayed top with a 1-1 draw against Brazil and Korea Republic moved into second by beating Italy 2-0.
- APNZ