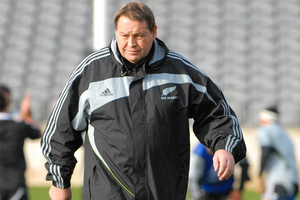 The most impressive skill on show these last two weeks of Bledisloe Cup action has been the expert way Steve Hansen has goaded the Wallabies.
He's been clever in the way he's managed to put them down, point out their frailties and shortcomings and yet come across as highly respectful and wary of the old foe.
It has made for good theatre and how much must Robbie Deans be hating the fact that he's being out-thought and out-played just as much off the field as his side are on it?
Three years ago, Hansen was kept away from the media after the final Tri Nations game. He'd gone a bit off the rails back then - unable to keep his cool and accept that the fourth estate always had the last word.
He's undergone intensive training since then - made some real shifts in that department and now he gets it: really gets it. His laconic wit shines through these days - presents for what it is rather than mistakenly showing up as disdain or indifference.
He knows how to use public forums to benefit his side. Before last week's test he made some excellent points about the team the Wallabies had picked. He suggested they had made so many changes since their World Cup encounter for one of two reasons: either Deans realised he'd got it all wrong back then or they were going to try to play a different style in Sydney. It could have been inflammatory had he not followed up immediately with a caveat that it didn't matter because the team chosen was demanding of respect and more than capable.
After the game he was asked whether he felt the Wallabies would have been psychologically damaged by losing at home. Often coaches avoid giving straight answers to such straight questions: not Hansen. His reply was astute - yes the Wallabies will have been hurt and compromised by the loss, but again, he was sure to make it just as clear that a side of their calibre would use that hurt to come back stronger at Eden Park.
It has been impossible not to have been taken with Hansen in his head coaching stint so far. He doesn't do ambiguity or corporate talk: his communication is direct, easy to understand and at times illuminating.
His analysis of the Sydney test was concise and insightful. Deans on the other hand was awkward, reluctant and disjointed.
He seems to have stopped speaking in whole sentences, often finishing points with a nodding head instead of words as if everyone should know what he's getting at.
It doesn't appear to be a coincidence that just as Hansen speaks clearly and simply, the All Blacks have a simple and identifiable gameplan. In stark contrast, Deans talks in half finished riddles and the Wallabies play a confused game: he picked a group of conservative and defensively-driven backs last week and then asked them to play expansive, open rugby.
So far it is one-nil to the All Blacks in the series, but the score off it is much more emphatic in favour of Hansen over Deans.
- Gregor Paul is the Herald on Sunday's rugby writer