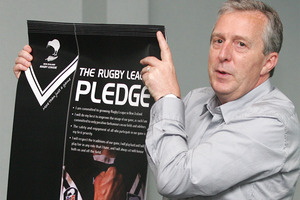 New Zealand Rugby League chief executive Jim Doyle has announced he will step at the end of this year.
Doyle was appointed to the position in August 2009 following a review of the game in New Zealand.
He was tasked with leading the organisation through one of its biggest transformations to date.
Under his leadership the structure changed, long-term relationships with partners were built and year-on-year profits were earned.
"I really wanted to make a difference and do all I could to help rugby league become a much stronger sport on all fronts and at all levels. It has certainly been a very challenging three years and I feel I have done all I can personally to achieve that," Doyle said today.
He said now was the best time to pass the reins to someone new who could lead the organisation through the next chapter of its journey.
"I truly believe the game is heading in a fantastic direction and I feel very fortunate that I have been able to play a role in shaping that direction, however I think that it is important that the CEO who will lead the organisation through the next chapter be part of creating the next strategic phase."
Chairman Scott Carter acknowledged the extensive work that Doyle, and his team, had achieved during his three-year tenure. "Jim has an exceptional talent for communicating, an outstanding work ethic and a commercial aptitude that is simply first-class. We have been extremely privileged to have Jim lead the organisation through a very critical period and he will undoubtedly be missed by everyone."
Doyle will remain in the chief executive's role until the end of the year.
- APNZ