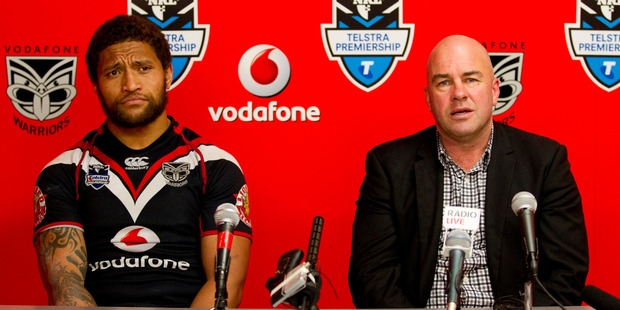 Yesterday's defeat by the Panthers may not have saved Warriors coach Brian McClennan's job, but nor was it bad enough to bring down the axe.
Another heavy home defeat, such as the 45-4 drubbing by the Sharks a fortnight ago, would have sealed his fate.
While yesterday's 18-16 reverse to the Panthers was grim, McClennan appears likely to at least see out the season. Whether he survives beyond that and into the second year of his contract is another matter.
"Don't bet on it," a well-placed club insider said yesterday.
Chief executive Wayne Scurrah said the club's board would make a decision on the coach's position after an end-of-season review.
"The board is conducting the review, the owners are engaged in the process," Scurrah said.
Owners Eric Watson and Owen Glenn are both overseas. Glenn isn't expected back in New Zealand until next month.
"We haven't spoken since the game," Scurrah said last night.
"They are on the other side of the world and Australia. I have no doubt we'll talk soon but our intention was to get through the season before we complete the review and then make decisions going forward.
"There's no doubt the current results are not satisfactory. We have repeated that a number of times. Nothing changed [yesterday]."
McClennan said he was not aware of any implications the defeat might have for his future.
"As far as I am concerned I will just keep trying to do my best for my players. I will control what I can control. That's how I prepare myself and work with the staff to prepare the team."
McClennan and Scurrah met Kiwis coach Stephen Kearney yesterday. Scurrah said the meeting was to sound out Kearney over a potential opportunity at the club but added: "Do I think he could add value? Absolutely."
Former Warriors coach Ivan Cleary said he was too preoccupied with his own troubles at Penrith to follow the Warriors situation closely, although he believed the club was still in a healthy overall position.
"Look, I don't really know what the full story is," Cleary said. "I guess the fact is it has been a disappointing year for them. That's about all I can say.
"We've got enough problems in our own backyard [at Penrith]. The club is obviously smart enough to work out how they can go forward. The club is in - well should be - in good shape. There is plenty of talent in the playing roster and a lot of good kids who have had some experience this year."