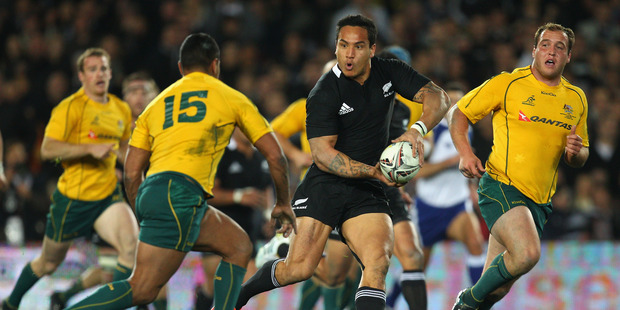 Hosea Gear's All Black career has been perplexing. Rarely in recent times has there been a player who has enjoyed such strong public backing and only sporadic and limited support from the All Black selectors.
Unquestionably, or at least until Julian Savea came along, the best broken field runner in the country, an aggressive one-on-one defender and at 104kg, a massive target to blast into the midfield, Gear was easy to like.
Yet, since his test debut in 2008, he's won just 10 caps and the only time he's been a consistent selection was the end of year tour in 2010 when it looked as if he had finally made the breakthrough and convinced the coaching panel he was the right man for their game plan.
It turned out he wasn't: Gear was the unlucky wing to be dropped for the World Cup - earning a late reprieve only when Mils Muliaina was ruled out with injury.
He suffered the same fate again this year - initially being overlooked until Cory Jane and Richard Kahui were forced out of the June series.
There was, at least, one obvious reason for his non-selection earlier this year: he had intimated he would be leaving to play in Japan at the end of this month.
He was ready to sign, rang his brother Rico for advice and then changed his mind. Rico, himself a former All Black wing, cautioned against the move - saying that if his brother felt he could still be an All Black, he should stay.
Gear junior changed his mind, signed with the New Zealand Rugby Union and as a result was called up as an injury replacement. He earned a start against Ireland in the third test and took it - memorably leaving a wake of Irishmen as he crashed over for a memorable long-range try. That was the Gear everyone wanted to see, most particularly the selectors and the man himself.
Others may be puzzled about his lack of traction in the test scene but the 28-year-old is clear in his own mind where he's come up short in the past.
"I probably haven't taken the opportunities that I have been given," says Gear.
"I didn't really have many but sometimes at this level you don't really get many - that's probably what I put it down to, whereas a lot of the other guys, they did, they played really well and they deserved to be in there."
Carpe diem (seize the day) is the new motto for Gear and there is a sense of it being now or never for him. This Rugby Championship is his time to string together a handful of performances to establish himself in the No11 shirt.
Kahui won't be back until next year and Savea is young, a touch green and so similar in style that Gear can retain his place if he consistently delivers. His fate is in his hands; if he plays well, his test career can become a source of pride rather than a source of frustration.
He knows all this, accepts that patience will be tried - maybe even broken - if he meanders through the campaign without offering a bit of wow and urgency.
He also knows that in the past he's been guilty of staying put on his wing, waiting for the action to come to him, rather than going looking for it.
Modern rugby has no room for perceived loafers. The coaches of today want wings to be the equivalent of clipboard carriers - to at least look busy. It's a point Gear has finally taken to heart.
"It has always been about workrate, and where the game is headed compared with the past, you really want your wings to be active now," he says in assessing where he has scored poorly with the selectors in the past.
"That is something we are trying to build into the way we play at the Highlanders as well. What can we do in situations where the ball is not coming our way and opportunities are not coming up? What can we do to get involved?
"Wings can be some of the most dangerous players on the field but it's not the case of waiting out there any more. We have to get involved as much as we can. There are so many players wanting to take this spot, which is what you want - someone snapping at your heels."