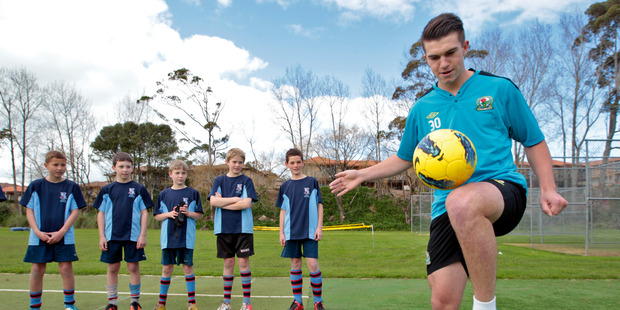 Tim Payne's presentation of an All Whites jersey at a Sacred Heart College assembly on Friday was proof of his rapid rise in football - this time last year, he was playing for the school's first XI.
Payne helped Sacred Heart to a historic first win in the national secondary schools tournament last year.
He had already played for Auckland City and Waitakere United in the ASB Premiership and starred for New Zealand at the Under-17 World Cup in Mexico. He was subsequently selected for the equivalent under-20 tournament in Colombia, where he also performed with distinction.
That was enough to catch the eye of Blackburn. A two-week trial last September was extended to eight weeks. He did enough to impress the coaching staff and signed professional forms in January. Since then, he has won full All Whites honours, as well as competing in the Olympic Games.
There he also caught the eye of a Guardian newspaper football correspondent, who wrote: "Tim Payne, a Blackburn Rovers reserve, belied his lack of senior experience by impressing in a defensive midfield role for the losers and could well be one to watch at Ewood Park next season." That was in a 3-0 loss to Brazil.
"My aim [this season] is to get in the first team," says Payne. "Everyone says in the Championship, you have more of a chance but it all comes down to if I play well enough or not. Hopefully I can push for that spot."
Blackburn manager Steve Kean is walking a tightrope, with one club official stating publicly that three consecutive losses will see Kean sacked.
Payne has been home for the past 10 days, catching up with family and friends. Once fairly lean, he has packed on plenty of muscle from daily gym sessions.
"The first time Mum saw me after eight weeks away [at the initial trial], she said 'oh wow you have got a lot bigger'," laughs Payne. "You do start to notice that the jeans are a lot tighter around the thighs and stuff. My physique has changed a lot but you need to be strong."
"He has matured into a man, physically and mentally," says former All Whites and Leeds defender Danny Hay, now coaching at Sacred Heart. "It's dog-eat-dog over there in a professional environment and you need to be tough. It makes you grow up pretty quickly."
The first few weeks in England were difficult, as the other youth players and trialists saw him as competition for a coveted professional contract.
"In that situation, it can be very lonely," says Hay, "as the younger players especially see any newcomer as a massive threat."
Payne says he began to feel accepted - and that he belonged - about six weeks into his trial period.
"As a Kiwi boy going over to England, it can be daunting at times and then you finally realise you can compete and it is a good confidence-booster as well. The first few days were probably the most daunting."
Former Blackburn star Ryan Nelsen has been a "massive influence" for the youngster, opening his home to Payne over the Christmas period when it looked as if he would be spending the holidays alone.
Payne has always impressed as a precocious talent - at 15, he became the youngest-ever goal scorer in the ASB Premiership - but knows he can't trade on that for much longer.
To gain a spot on the Blackburn roster, he is competing against hardened professionals at Ewood Park.
But he has already exhibited an ability to step up to each level he faces.