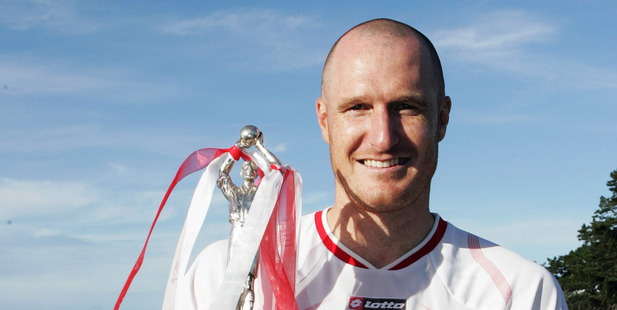 Waitakere United will appoint a new head coach this week, with former All White Danny Hay in the running.
While the other ASB Premiership teams are in full planning mode for the upcoming season, the reigning champions are still to complete their coaching roster, with former mentor Neil Emblen unwilling to give up his national team duties.
Interviews were completed last week and recommendations will be presented to the club's board tomorrow night before an offer is made to the successful candidate.
Hay, one of six New Zealanders to have played in the Premier League, currently coaches the Sacred Heart first XI and also runs the football academy at the East Auckland school. He has been at the forefront of their recent success (they won the national secondary schools tournament last year and have led the Auckland secondary schools competition for much of this season) after a previously modest history where they rarely challenged the big guns.
In recent times, Hay has also been an outspoken critic of national coach Ricki Herbert and New Zealand football in general, often going public with his concerns over the perceived lack of accountability in the sport and the playing style of the Phoenix and All Whites.
The former Leeds United man has further coaching ambitions but will need to weigh up his commitments to Sacred Heart as well as his young family - and there is no guarantee he would accept the role if it was offered.
In an about turn, Emblen is also believed to be a serious contender, having had a change of heart since returning from England last week.
Once the new coach is appointed, he will have a unusual first-up challenge, with Waitakere set to play the Tahitian national team in the first week of September. Tahiti, who won the OFC Nations Cup in June to qualify for the 2013 Confederations Cup, are building for the upcoming World Cup qualifiers. The match will be played Monday, September 3, at the unlikely venue of Anderson Park, Mt Albert.