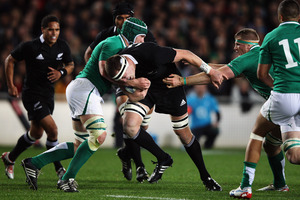 This time last year Brodie Retallick was a name that mostly drew blanks, a big bloke playing for Hawke's Bay who a few in the know thought had some potential.
No one was shouting about him because no one was sure. The picture was a touch murky: size was clearly no issue as at 2.03m and 120kg, Retallick was an impressive specimen. But he didn't have the longevity of performance that blokes of his tender age should.
Schoolboy rugby can be a cut-throat business when it comes to assessing who is ready to carry on and push for the professional ranks. Retallick had failed to impress in his two years with Christchurch Boys' High School. He won lineout ball - because he really had to, given his height - but he was, by most accounts including his own, unfit and carrying close to 10kg of fast food baggage.
Canterbury, renowned for their ability to spot those worth spotting, passed him over; they did not welcome Retallick to their Academy programme. That could have been the end of the road were it not for a friend of Hawke's Bay coach Tom Coventry.
He said he'd seen a big lug who was worth investing in. The scouting report went along the lines of Retallick being a prospect if he could change his attitude, shed some weight and be given expert tutelage.
Retallick was flown to Napier in 2010, met Coventry and joined the Magpies. Everything changed. The junk food was junked, the weight came off, the work rate upped, the upper body strength built and a seriously good prospect emerged. Retallick made the New Zealand under-20s last year, played well for the Magpies and convinced Coventry and Chiefs coach Dave Rennie that he was ready for Super Rugby.
Was he ever ... assistant All Black coach Ian Foster noted a few weeks back that he'd never seen any lock play so well in their rookie season. Retallick has been phenomenal in terms of rucks hit, lineouts won and tackles made. He adds his weight well in the scrum and Canterbury know that all three locks involved last night for the All Blacks should have been theirs. He is the one that got away.
That Retallick was the one to start on the bench last night was because of the combination coach Steve Hansen thought would work best: "I think locking is a combination and I think having a big ball runner versus two streaky, skinny guys [Whitelock and Retallick] even though they are not that skinny, worked better for us in the Irish series and we want to have another look at it."
There is also an element of forward thinking in the selections. There are only three locks in the squad and Retallick, at just 21 and with a massive Super Rugby campaign behind him, is probably most in need of a spell on the bench. While he's a big man and well conditioned, the physicality of modern rugby can't be underestimated.
Back in 2010 when Whitelock emerged as strongly and as surprisingly as Retallick, the selectors decommissioned him for a spell in the Tri Nations. As well as Whitelock had played, as well as he had coped with the step up, the coaches were conscious that at just 22, he was mostly playing against athletes five or six years older, who were better equipped to cope with the relentless nature of the collisions. That caution paid dividends with Whitelock and may do so again with Retallick.
"Every game is physical," says Whitelock. "The physicality of Super Rugby is huge and then international rugby ... it keeps going up again. I think in your first couple of tests, you are so excited that you just want to get out there. Once you have played a few more tests - and I haven't played a hell of a lot - you definitely know what is coming. But I think Brodie is only going to get bigger and stronger and mentally, once he's had those experiences like playing Australia, they all help."
At the core of his game are classic skills that will serve him throughout his career. He hit 52 rucks and made 17 tackles against the Crusaders in their second round-robin clash. Coaches love those stats - those are game-winning numbers - and few locks in Super Rugby, even the best South Africans, can deliver the same work rate, the same effectiveness.
Hansen knows what he has with Retallick, knows that he was lucky an astute judge and expert technical coach such as Coventry was prepared to take a risk. The whole of the country will be paying fierce attention now to the ITM Cup to see if they can spot the next big thing.