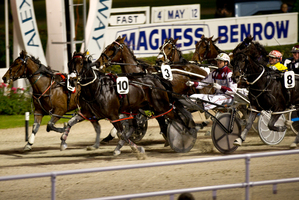 Border Control has been superb and should be unbeaten this campaign.
There will be Kiwi glory at Australian Breeders Crown Finals day tomorrow - it is just a matter of how much and at what odds.
A record 16 New Zealand-trained horses will contest the A$1.6 million ($2 million) meeting at Melton, with another three Kiwi-owned reps who have just been recently transferred to Australian trainers.
With the first or second favourites in five of the 10 races, New Zealand should have its best ABC day ever.
Here is a look at how the New Zealand chances stack up:-
Race two: Bonechip (12): Still immature and on the unruly but meets only an average local bunch. Can win but more realistic First4 chance with Blitzthemcalder from the ace the best trotter in the race.
Race three: Miss Moonlite (11): Can't win on last Friday's semi-final second. Better chance would be the Pukekohe-owned Tiger Tina (7), who looks the danger to hot favourite Bella's Delight. Victor's Delight (Kiwi-owned) is a place chance.
Race four: Cyclone U Bolt (10): Harness Jewels winner who threw away Vic Derby last month by hanging late. Trainer is thrilled with his work this week and while he may have to sit parked to win might be good enough to do so.
Triumphant Monarch (8) is owned in NZ and has an each way chance if he can trail.
Race five: One of the glamour races of the carnival and should be totally dominated by the New Zealanders.
Border Control (3) has been superb for the last three months and should be unbeaten this campaign.
If he leads early should win, if he doesn't still the one to beat.
Franco Nelson (1) will be the big improver on last week's third in the semis and should lead or trail. Clearly biggest danger to favourite.
Bit Of A Legend (12): Monster second last week after early gallop but now on the unruly, which makes this very tough. Will need a hot pace early.
Major Star (10): Improved last week but coming to end of tiring campaign. Place at best.
Race six: Twist And Twirl (10) has been freakish at her best this season and sat parked to win semi last Friday. But this is tougher, especially if Shake It Mama (3) leads as expected. Will need hot pace early to bully way into race later.
Stablemates Cheer The Lady (6) and Our Precious Rose (11) are both good enough to get some money, with Cheer The Lady clearly the better but she raced below her best when third after trailing last Friday.
Race seven: Again four Kiwi hopes but two of them, Texican (1) and Fly Like An Eagle (7) stand out.
Fly Like An Eagle showed great gate speed to lead and trail before beating Texican last week and while he is wider tomorrow, the same scenario could unfold.
Both are good enough to win and the first one to the lead out of the pair will probably be first home.
Let's Elope (3) is a natural early speedster who would be likely to take a trail and is therefore a must for quinellas and trifectas.
Mr Nickel (9) is back with trainer Mark Purdon and won weaker semi-final last Friday. Would need a dramatic early burn to finish over the top of these.
Race nine: Stablemates It's Onlyforyou (3) and Chanelle Bromac (10) fly the flag here and the former deserves to be favourite.
Brutal semifinal win last Friday, has in-form trainer and driver and will simply be too tough for most here. Chanelle Bromac has a tiny place chance if she stays out of the early fireworks.