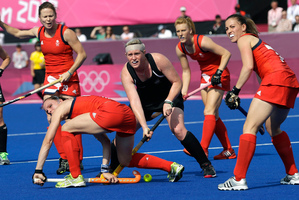 The pressure will be on the Auckland teams when the 13th Ford National Hockey League hits-off today.
Outright winners of the K Cup as women's champions and joint winners of the men's battle for the Challenge Shield after last season's final was snowed off, the Auckland teams will be expected to again dominate what will be a vastly different competition this year.
Unlike last season, all teams are sporting new players. Last season all players with international aspirations, including the Olympic Games, had to play in the NHL. This year most Olympians have opted out.
Auckland women, coached by Jason Butcher, has national squad members Katie Glynn, Sam Harrison and Julia King in their NHL squad. They are joined by former Black Sticks Honor Carter, Frances Kreft, Jan Rowsell, Lucy Talbot and Kate Saunders and Australian guest player Kate Hollywood in what shapes as a strong unit.
Midlands have been a consistent performer without claiming the honours. Clarissa Eshuis, back from London, is joined by fellow Olympian Cat Finlayson and goalkeeper Sally Rutherford, one of two players (along with King) who was on the outside looking in at the Olympics and will be keen for some game time after some regular training in the Black Sticks environment in London.
Bianca Russell, a standout in goal for the Olympic team, will provide the last line of defence for 2010 winner North Harbour who will again be coached by former international Bryce Collins.
Northland, fourth last season, have been hard hit with Olympians Ella Gunson and Charlotte Harrison missing as are former Black Sticks Laura Douglas and Anna Thorpe - both mothers-to-be. The northerners will have returning Olympian Alana Millington and Nicky O'Donnell as a guest player from England.
The men's competition has been hit hard by the absence of most Olympians.
North Harbour, after their worst finish last season, will be looking to the experience of former internationals Dave Kosoof, James Coughlan, David Green and Jan Petersen, along with stalwarts Simon Brill, Daniel Shaw and Joseph Bartholomew under new coach Charlie Meredith.
Midlands will be coached by former North Harbour stalwart Brent Edwards and have Olympian Blair Hopping to add the defence steel along with goalkeeper Stephen Graham who was in London but outside the final 16. Former international Lloyd Stephen takes the player/assistant coach role.
Central have Black Sticks striker Nick Wilson to lead their attack. He will be supported by 100-plus international Ben Collier as they seek to repeat their bold 2011 showing when they reached the final which was never played.
The league opens with a double round this weekend.
In an interesting aside, North Harbour supporter Colin Chester is headed to Levin - where the Central men and women will play Canterbury tomorrow - with a load of hockey gear, 100 sticks, 60 balls, 20 pairs of shin pads and seven sets of goalkeeping gear, as a boost to the hockey community in Horowhenua.
After a five-day break, all teams will be in Auckland from August 25 to play the remaining five rounds and play-offs.