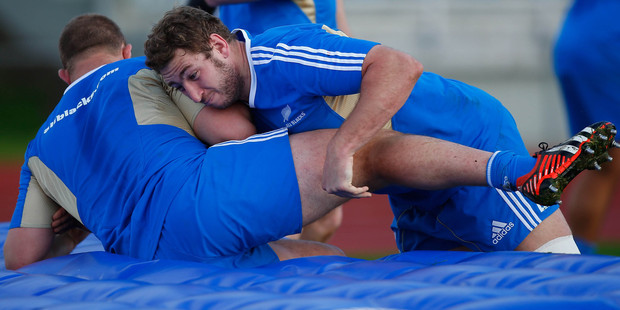 When the All Black coaches sifted their locking ideas for the pivotal Bledisloe Cup start, they went for a mix 'n' match approach.
That decision was a windfall for Luke Romano, the bulkiest of the locks who will partner his Crusaders buddy Sam Whitelock tomorrow in Sydney.
"I think locking is a combination," coach Steve Hansen said.
"I think that the big ball-runner versus the two streaky skinny guys - even though they are not that skinny - that combination worked better for us in the Irish series and we want to have another look at it.
"I think that combination of a big solid man and a jumper in the middle worked good for us."
That choice left Brodie Retallick to make his fourth test appearance from the bench tomorrow when the Wallabies host their transtasman rivals at the ANZ Stadium.
"I just think Brodie and Sam are quite similar players and both very good but with Sam and Luke we get that different combination.
"It gives us a solid tight head lock for the scrummaging too.
"My gut just tells me we are better off with that combination, it has worked well for us before with Brad [Thorn] and a tall guy like Chris Jack and Whitelock."
Hansen had not been swayed by the predominance of Crusaders forwards who now match the Waratahs in the Wallabies. "They are obviously going to try and take us on up front and they are talking themselves up about that."
Hansen was surprised about some of the Wallaby selections and how much different tomorrow's side was from the teams' last meeting at the World Cup.
It was either an admission from their coach Robbie Deans that he got his selections wrong for the World Cup or he wanted to play a different style of game this year.
The Wallabies were making noises about having a stronger pack but that scrutiny would come tomorrow.
"It's an interesting statement isn't it," said Hansen.
"It's not something we usually say and probably the difference between Australia and us, we don't talk ourselves up much.
"Actions speak louder than words so we'll see who is doing the talking when the time comes I guess."
Recycled midfield back Sonny Bill Williams was talking but not expansively about his first return to the sporting fields of Sydney since his hurried and acrimonious exit from the Bulldogs in 2008.
He was working hard on connecting with Ma'a Nonu in midfield and finding a balanced approach for both to express themselves.
He had not given his reappearance too much thought.
"For me I am just trying to stick to the routine that has worked for me the whole year and get to tick all the boxes and not worry about too many outside things that are happening.
"There will probably be a bit more spotlight on me because of that but I play my best when I focus in on what I need to do and do my job really well.
"I know if I do that then I can contribute to the team."
Williams expected to cop it from the Australian spectators but he got that everywhere he played.
"Just take your shirt off mate, you'll be right," Hansen whispered.
No 8 Kieran Read pronounced himself refreshed after several stand down spells because of head knocks.
He had used the time to do plenty of running and weight training and was primed for the initial Rugby Championship.
"History gives me the confidence I will go fine," he said.
Play Jimungo Virtual Rugby
Play against All Black great, Buck Shelford and compete for prize money and bragging rights in Jimungo Virtual Rugby Champs and Virtual ITM Cup Rugby. Sign up now.