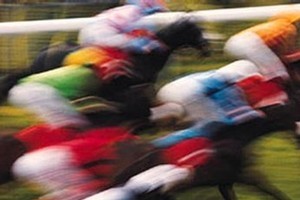 Any person found guilty of fixing races could face up to 10 years in jail under new legislation designed to protect the integrity of the sport in Australia.
New South Wales is the first racing jurisdiction in the nation to introduce the stiff penalties but other state and territory racing industries are also preparing to introduce similar legislation, reports the Herald Sun.
The possibility that race fixers could face lengthy imprisonment if found guilty of manipulating race results comes after last week's revelation that Victoria police are investigating allegations of an "organised crime network and high level corruption" in Victorian racing.
The proposed Crimes Amendment (Cheating at Gambling) Bill 2012 will set a maximum penalty of 10 years' imprisonment for anyone found to have engaged in or facilitated conduct that corrupts the outcome of a race.
* Leading jockeys, other racing identities and professional gamblers are being investigated by police as an organised crime network appears to have far-reaching tentacles in Victorian racing.
Police investigations originally centred on a race won by top jockey Danny Nikolic on Smoking Aces at Cranbourne in April 2011, but authorities now believe the corruption could be widespread and are examining several other races.
The fresh allegations have led authorities to explore one of Australia's most famous jockeys, who cannot be identified for legal reasons, after a huge bet on a rival horse to win a race in which the jockey was riding within the past two years.
A source from Betfair has revealed to The Age that another investigation is underway into lay betting - when a punter backs a particular horse not to come first.
Another leading jockey is believed to be involved in such betting in more than 24 races. "We have been aware of it for some time and we have told the authorities [in Victoria])," the Betfair source told The Age. "It is the most serious case we have at the moment."
It has also been reported that:
* Chief commissioner Ken Lay is having issues banning organised crime figures from tracks because of legal problems.
* Police have in their possession information about corrupt activities involving three licensed Victorian bookmakers.
* Another bookmaker, Charlie Norris, resigned after a probe began to delve deeper into his business association with a convicted drug trafficker.
The race-fixing allegation emerged during a homicide investigation into the death of former horse trainer Les Samba, who was shot dead in Melbourne in February last year.