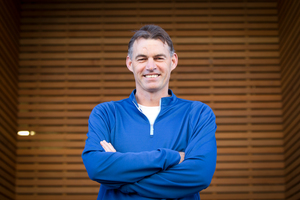 Former All White fills key NZF role seeing international success as crucial.
Fred de Jong was still busy clearing his cluttered decks when we called this week. Not that he's taking life easy - far from it.
De Jong is about to start his new role as New Zealand Football's high-performance manager, a "daunting but exciting" prospect for the 48-year-old former All White striker who played professionally in Australia and Europe.
Hamilton-born, Auckland-raised de Jong has quit governance roles with Fifa, Oceania Football and NZF to take up the key soccer position, vacant for the past two years.
He's also leaving his long-standing job as general manager running the New Zealand office of a multi-national software company whose programs are used by New Zealand rugby and cricket, among others.
De Jong is heading for the hot seat as New Zealand soccer attempts to raise its game and build properly on the All Whites' fabulous 2010 World Cup campaign and associated financial windfall.
De Jong talks to the Herald.
What made you jump at this opportunity?
Historically, the job entailed a big coaching component, which is not for me. This time they separated management from coaching which really appealed. My experience with the software company is a good advantage because I have a good understanding of what other sports are using.
What are three major aims?
To make sure we consistently get past the group stages of World Cups and Olympics, for all our teams - the under 17s, 20s and seniors. We need to develop more international-level coaches, to create a plan for each coach and talk to them about what they need. We can also bring experienced coaches here so the whole group can learn from them. The third aim is to have really good relationships with the sports bodies in the high-performance area.
What major hurdle do you face?
Self-interest. In a lot of cases involving juniors, people want to own the players because they want to win a game, win the league. That might not actually be best for the player or New Zealand.
What is your major strength?
I combine a good football knowledge and background with good corporate process background.
What do you need to work on?
I'll have to be open and take advice, take ideas and make decisions based on that.
How important is it for the All Whites to qualify for the 2014 World Cup in Brazil?
The World Cup is a game changer, purely because of the money. It allows us to do so much other stuff, and qualifying through Concacaf is a big advantage. We've played Jamaica, Honduras, those sorts of teams, and we shouldn't be overawed. We got $10 million just for turning up [in South Africa].
Will Ryan Nelsen hang on for another World Cup campaign - is that vital?
It is important that he is there and we'll see how much game time he gets under Mark Hughes at Queens Park Rangers, although it will probably come down to injuries in the end.
Where do the Wellington Phoenix fit in with your plans - how is your relationship with Phoenix and All Whites coach Ricki Herbert?
I'll talk to Ricki a lot - what he does with the Phoenix and All Whites players there is really important. My relationship with Ricki goes back a while - we played together at Mt Wellington in the early 1980s. We get on really well.
Who was your childhood hero?
My parents are Dutch and I was very much influenced by Dutch football early on. It was always Johan Cruyff. My first World Cup memory was watching the 1974 final [Holland v West Germany]. My dad was there [Munich] - he picked up a ticket the day before the final. A disappointing result for us though.
Best playing memory?
I really enjoyed playing in Australia for Marconi but I found no mental stimulation being a professional sportsman, which didn't suit me. I did some contract programming when I played in Holland which was a new one for the club [Fortuna Sittard]. I needed it, just to keep the brain ticking over.
Worst memory?
Injuries. I had 10 operations, some of them quite bad. My body wasn't suited to the grind of professional football.
Best player you faced?
Dennis Bergkamp when he was at Ajax. I marked him in one game when our centre back got injured. He was 19, the top goalscorer in Holland, and everyone knew he was going to be fantastic. Having to mark someone like that was a good thing - he was phenomenal, the whole package, and it made me understand that no matter how hard I trained I could never be as good as that.
Does New Zealand need to get more players into professional leagues?
Those avenues are becoming more prevalent - American universities, European clubs, Australia, Asia more and more. If we can find the right club, then Europe is the best pathway. NZF has a role in achieving that.
Will you continue to do television commentary, or is there a conflict of interest?
I can still do commentary - I've been on the NZF board for 11 years and still done it. I love doing commentary.
What changes would you like to see in New Zealand soccer?
Develop better youth and women's leagues - women are the biggest growth area of the game - but that's purely a matter of money.
Does that bring us back to qualifying for the World Cup?
No pressure, but yes. We got $10 million last time, and it'll probably be in the region of $12 to $13 million next time. If we don't qualify, it'll cost us.