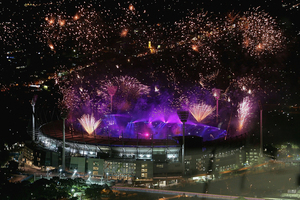 The Olympic flame had hardly gone out in London before politicians in Melbourne and Brisbane called for their cities to bid to host the Games.
After Melbourne was yesterday named "the world's most liveable city", the city's Lord Mayor Robert Doyle said the Victorian city was well placed to host the Olympics in either 2024 or 2028.
"The world's best sporting venues are already here. We know how to run events in Melbourne and we'd do it in our own way," he told ABC News.
"Why not throw our hat in the ring? We are one of the great sporting cities of the world, why not ask for the greatest sporting event in the world?"
Victorian Premier Ted Baillieu left the door open to a possibly Olympics bid, despite shooting down a proposal to a commission a feasibility study into hosting the event.
"Melbourne has a fantastic track record for major events. We do sporting events very well.
We've got a fantastic calendar through the year," Mr Baillieu told The Australian.
"Our focus currently is on rebuilding budget capacity, focusing on productivity, and focusing on growing our economy."
However Australian Olympic Committee president John Coates said Brisbane is the likely candidate for the next Australian Olympic bid.
Queensland Premier Campbell Newman told AAP he had spoken to Mr Coates about the possibility of the Queenslanders putting in a bid for a games beyond 2020.
"He and I have spoken about these things in past years and he's always been very supportive of Brisbane launching a bid as a city and obviously Queensland as a state needs to get behind that," Mr Newman said.
However he said his focus was on the Commonwealth Games, which the Gold Coast will host in 2018.
Melbourne hosted the Olympic Games in 1956 and the Commonwealth Games in 2006.
Brisbane hosted the Commonwealth Games in 1982.
A diverse range of cities from around the world look to be in the running to host the 2024 Olympic Games.
Nairobi in Kenya, Casablanca in Morocco and Durban in South Africa have each indicated a desire to be the first African cities to host the Olympics in Africa, while Baku in Azerbaijan, Taipai in Taiwan, Doha in Qatar, and Dubai in the United Arab Emirates intend to make bids for the games.
In Europe, Paris in France, Berlin in Germany, Kiev in Ukraine, and either St Petersburg or Kazan in Russia are slated to be in the running, while in North America Mexico's Guadalajara, Canada's Toronto, and either Tulsa or Baltimore-Washington in the US are expected to bid.
Bidding for the games will begin in 2015 and will be announced in 2017.