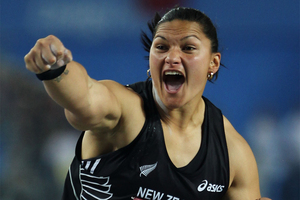 Hundreds of punters are in line for a surprise payout after the TAB said it would honour all bets placed on Valerie Adams to win gold - including tickets that were thrown out.
The TAB said yesterday it would pay those who backed the Kiwi shot-putter, costing a total amount which would likely run to six figures.
"We think this is reasonable and only fair for the many people who bet on Valerie," said TAB spokesman John Mitchell.
"The rules are very clear and we are not obliged to do this but it's in the spirit of patriotism.
"We want to make sure everyone gets what they are entitled to."
The TAB's rules state payouts are settled according to the positions occupied on the podium at the completion of an event. Subsequent protests, appeals or disqualifications are not recognised or considered for betting purposes under the rules.
The TAB is also paying out about $10,000 as it honours all of the 160 bets that were placed on the disgraced Belarusian athlete, Nadzeya Ostapchuk.
Among the big winners was a man known only as "James from Oamaru", who originally had Adams on a multi-bet to win gold.
Mr Mitchell said he was paid $25,000 after the result was revalidated.
Mr Mitchell said betting interest in the Olympics had grown slowly with $3.5 million taken on the London games - the same amount that local punters bet on last year's Rugby World Cup final.
Local punters largely put their cash behind New Zealand athletes.
Adams, who was paying $1.45, was among the most-heavily backed New Zealand athletes to win a gold medal. Rowers Eric Murray and Hamish Bond were paying $1.22.
The 2011 Rugby World Cup remains the biggest sports betting event in the TAB's history with more than $30 million generated in betting turnover.
"The Olympics don't even go close to the Rugby World Cup, which in terms of betting turnover would be 10 times bigger."
Bets placed through TAB accounts on Adams will be credited and no further action is required by customers.
Customers who placed bets at TAB outlets, and who may have misplaced their tickets, will need to fill out a lost ticket claim form either online or at any local TAB outlet.