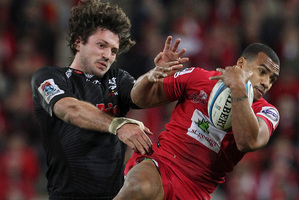 Will Genia was a rare shining light for Australia in the recent Super Rugby competition, and not surprisingly the All Blacks have made it a priority to snuff out his threat in Sydney on Saturday.
Reds' halfback Genia almost single-handedly hauled his side into the playoffs before injuries to teammates and a strange shift to first-five in the qualifier defeat to the Sharks conspired against him and his team.
He has also often been a regular thorn in All Blacks' sides, which counterpart Piri Weepu underlined after training in Auckland today (Tues) ahead of the Rugby Championship and Bledisloe Cup match at ANZ Stadium.
" Obviously he's a big threat for them so we'll be trying to shut him down,'' Weepu said.
" I can't give too many tactics but I guess [we will] try not to let him play his usual game which is poking his head around the corner and trying to draw defenders and put guys into holes.
" We've just got to be on our game and make sure he doesn't get the opportunity. We saw it last year in Brisbane [a Tri Nations defeat for the All Blacks] where he made a couple of crucial plays and basically kept them in the game and I guess we have to make sure we stay on top of that and have guys in the right positions.''
Genia has been put on light duties by Wallabies' coach Robbie Deans after an enormous workload this year. The 24-year-old played every minute for the defending champion Reds, Australia's best performing team who sneaked into the playoffs following an appalling start to the season.
He also played every minute of all four internationals in the June test window; three very narrow victories over Wales and a lacklustre defeat to Scotland in Newcastle.
There is no doubt he will be a key figure for the under-pressure Deans, but he won't be afforded the luxury of playing inside Super Rugby teammate Quade Cooper, with the steadier Berrick Barnes given the nod at first-five.
"Obviously he's been playing pretty well and Quade has just come back from injury, but once Quade gets his confidence back he'll definitely be back in that role,'' Weepu said of the duel for the pivotal No10 position.
As for whether Weepu will be the man marking Genia, that remains to be seen _ the team is named on Thursday _ but newcomer Aaron Smith, of the Highlanders, appears to have the inside running after making a good fist of his three starts against Ireland in June, his first experiences at the top level.
Tawera Kerr-Barlow has also been putting the pressure on Weepu with his performances in the No9 jersey for the Chiefs this season, and has trained with the All Blacks for the past two days.
Asked about the threat Kerr-Barlow represents, Weepu said: "The way I started wasn't the greatest but I've worked my arse off to be back here ... he's an up and coming player.
"He's probably a bit more physical than I am. He's a talented young man, you saw how he went in the semi and the final.''
- APNZ