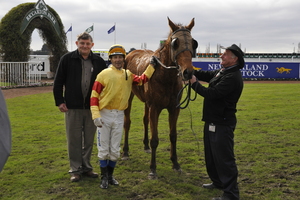 Colours worn by winners at Riccarton for almost 70 years were carried by Kalgoorlie Bomber at the Grand National meeting on Saturday.
Kalgoorlie Bomber is trained at Tauherenikau by Frank Stammers, who races the 11-year-old with Colin Stevenson, of Hokitika.
Kalgoorlie Bomber wears the gold colours with red hooped sleeves and gold cap worn by horses owned by the late Peter Louis, who was noted for his betting exploits. Louis is survived by his wife, Winnie, who lives on the Kapiti Coast.
Stammers was working for Louis when he bred and raced Miss Mod, winner of the Welcome Stakes and Irwell Handicap at the 1965 NZ Cup meeting. The Knight's Romance filly was trained by Bill Wylie at Carterton and ridden by John Dowling.
The Louis horses were trained at Trentham by Hugh Telford, when Master Dash won the 1943 Great Easter Handicap at Riccarton as a 3-year-old.
Telford bid 160 guineas to buy a Night Raid-Entreaty colt at the 1928 National Yearling Sale in Wellington on behalf of his brother, Harry, a small-time trainer at Randwick. Harry was acting for Sydney owner, David Davis. The colt was later named Phar Lap and gelded. He won 37 of his 51 starts in Australia and his only start in North America at Mexico before he died in mysterious circumstances.
Master Dash was back at Riccarton in 1945 to win the Great Easter Handicap and the Tasman Stakes, a weight-for-age mile at the Easter meeting.
Telford trained Master Robin to win the Woolston Hack Handicap for Louis at the 1945 National meeting.
Louis was training on his own account when he landing a big betting plunge with 3-year-old filly Donna Bella winning the Jockey Club Handicap (1600m) against older horses at the 1959 NZ Cup meeting. She was 3/5 in the betting with Kaye Tinsley the rider and at odds of 9-1.
Donna Bella did not win again until 21 months later when she was backed down to 4/11 in the betting at odds of 10-1 at Tauherenikau.
Louis won the Winter Cup at Riccarton in 1972 with John's Pal (4/4), ridden by Noel Eastwood. He won the 1981 Brabazon Handicap at the Christchurch Hunt meeting with Master Grey.
It was more than appropriate that Kalgoorlie Bomber was ridden by Noel Harris, whose oldest brother John was a regular rider for Louis in the 1970s.
Louis, who was in the shoe business, named two of his best performers, Harry's Pal and John's Pal, after his sons.
One of the Pal runners, Friendly Pal, won a staying race at Trentham at 50-1 during the 1970s and Louis was asked how come he paid so much.
The Wellingtonian responded by saying that he didn't give it much of a chance but had $50 each-way on just in case.
- Otago Daily Times