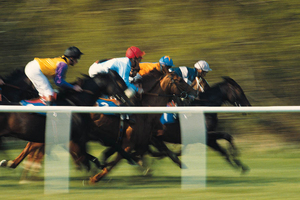 Don't you just love this week?
It's the one that, subconsciously anyway, starts horse racing onward and upward to spring, summer and the top horses and top races.
Foxbridge Plate Day at Te Rapa on Saturday and the Liston Stakes in Melbourne.
Two of the Foxbridge Plate runners strutted their stuff with solo gallops between races at Te Aroha on Friday and both impressed.
Fleur de Lune and Xanadu made a good job of getting through testing conditions, footing that brought undone more than a few who raced on the programme.
Looking stronger than as a 3-year-old filly last season, Xanadu and Michael Coleman covered 1000m in 1:05, the final 800m in 50.
"She's done very well during her spell," said co-trainer Ken Kelso. "One of the reasons is that she had only the three runs in the autumn. I'm very pleased that's all she had."
After easily winning the middle of those three runs at Tauranga, Xanadu took on the group one Breeders Stakes at Te Aroha and came from near last to be beaten a nose and a long neck by Say No More and Fleur de Lune.
Kelso is hoping Xanadu races well enough on Saturday to justify taking on to the Makfi Stakes, the first leg of the Hastings Triple Crown on September 1. "The Hastings track may not be firm, but this mare can handle some wet tracks."
On Friday, Fleur de Lune showed she was totally versatile in managing any type of footing by finishing strongly in her 1000m gallop. Her time was slightly slower than Xanadu's, but she was held up early in the gallop and finished off powerfully.
A year ago, Fleur de Lune finished second to Fritzy Boy in the Foxbridge Plate, but trainer Lee Somervell warned the mare is currently a little less fit than on that occasion.
"I'm hoping this gallop will bring her on quite a bit."
The Te Rapa track has received a lot of rain recently and showers are predicted for the next three days. Fortunately, it is one of the country's best at absorbing rain.
Former New Zealand apprentice Harry Kasim said goodbye to Australia with his sole winner there aboard African Pulse on Saturday.
Malaysian-born Kasim, who rode 82 winners in the two years he was with the Mike Moroney stable in New Zealand, decided a couple of months ago to transfer to Moroney's Melbourne arm, but found rides difficult to come by.
"I've been doing it pretty tough," he said after the Moroney-trained African Pulse gave him a victory on his last day in Australia.