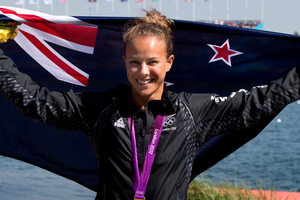 Encouragement from one of New Zealand's greatest Olympians helped put Ohope's Lisa Carrington on a path to kayaking gold.
Family friend Tony Lovett, who is also the club captain of Whakatane Surf Lifesaving Club, was still celebrating the win yesterday in the tiny Bay of Plenty town. Replays of Saturday night's K1 200m final were fresh enough to keep raising goosebumps in Mr Lovett's household.
He said he remembered Lisa's dad, Pat, calling him six or seven years ago to tell him Lisa, and Mr Lovett's daughter Jaimee - who is also a Canoe Racing New Zealand high performance athlete - had a chance to paddle with Olympic gold medallist Ian Ferguson.
"Pat rang us up and said 'Ian Ferguson has a bach [at Lake] Rotoehu and he's said he'll take the girls for a technique session in the kayaks'.
"We went over there and he told us 'those girls have got so much talent'.
"That was the beginning."
The Olympic champion had inspired Mr Carrington and Mr Lovett to start up a kayaking club - Eastern Bay Canoe Racing Club. He's hoping the win marks the start of a golden era.
"There's so much talent in this area, we hope we're giving them a pathway to the Olympics."
Carrington's former surf lifesaving coach, Graham "Bertie" Burt, said his former charge was a pocket rocket who, at the age of 23, was only likely to get better over longer distances before the 2016 games.
The race itself had made him a bit nauseous. "I always get nervous for my kids, it's terrible.
"Me and my wife, we're screaming at the TV 'Go you good thing'. She didn't have the greatest start but when she picked it up, didn't she do well ... she blew them out of the water."
Carrington's paternal grandmother Doreen Carrington is looking after the family's motel business while family members are in Britain. She couldn't wait until they arrived home.
"I felt so proud of her ... you want the very best for them. There was no doubt in my mind or heart she would achieve something."
Canoe Racing New Zealand chief executive Paula Kearns said sport bosses were confident the 2011 world champion would win a medal.
But the fashion she did it - in finishing almost half a second clear of the field - was something special.
Lisa is due home on Saturday morning, Ms Kearns said.