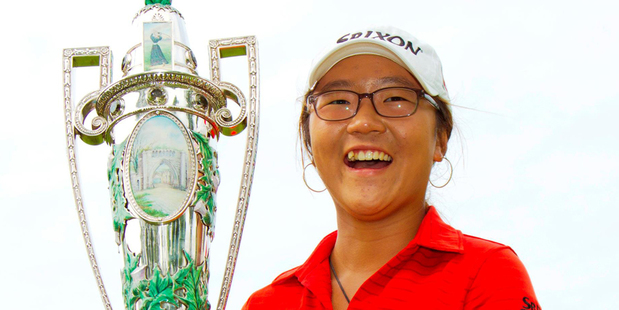 The records keep coming for teenage golf prodigy Lydia Ko, who today added the United States women's Amateur Championship to an already bulging CV.
The world's top-ranked amateur reaffirmed that status by defeating American Jaye Marie Green 3 and 1 in the 36-hole final today at the Country Club in Ohio, becoming the first New Zealand golfer to claim the crown.
The 15-year-old was humbled to have her name on a trophy with 112 years of history, especially considering a solitary win in Australia was the extent of her previous off-shore success.
"It means a lot," Ko said. "It's pretty amazing, and this tournament is classified as the top amateur event for me.
"I was talking with my mental coach before we came over to the stage and he said, 'what do you think your biggest tournament is?' And I said probably the US Amateur. It's more meaningful than the US Open for me at this stage."
Ko followed in the footsteps of fellow Korean-born Kiwi Danny Lee who, in 2008, became the youngest ever winner of the men's US Amateur.
At 15, Ko is the second-youngest champion in women's Amateur history. The record is held by Kimberly Kim, who was 10 days short of her 15th birthday when she triumphed in 2006.
It only continues a remarkable year for Ko. Last month she finished as the best amateur at the US Women's Open and, in March, also became the youngest winner, of either gender, in professional golf history when she claimed the NSW Open.
But Ko believed her win this weekend trumped that achievement.
"Winning a professional event is amazing. But to me, as an amateur, this tournament was much more meaningful."
Ko took a 1-up lead to the lunch break today after a tight battle in the morning. Then, with the aid of a shot she had never used in competition, arrived a turning point in the match.
At the 27th, Green hit her tee shot to within six feet of the hole while Ko's ball landed in a greenside bunker to leave the Kiwi with a difficult 20-yard shot.
As Ko surveyed the shot, her mother Tina said: "Try that flop bunker shot that you practise for fun. Be aggressive. Pretend it's a practice shot."
Ko followed her mother's advice, hit her ball out in a spray of sand and, with her view impeded by the deep bunker, knew she was close from the applause of the gallery.
Ko tapped in from three feet for a par and Green's birdie putt lipped out, allowing the Kiwi to preserve her 4-up lead with nine holes to play.
Inspired by her recent successes in amateur golf, Ko was in no hurry to change her life.
"I want to go to college, so turning professional isn't a priority," she said. "There are so many things to learn as an amateur."
- APNZ