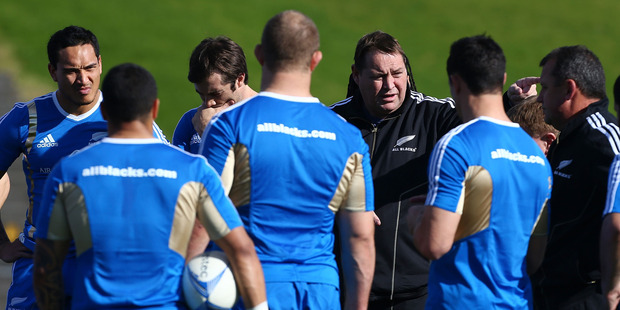 The All Blacks coach is challenging his charges to back up good games with more of the same, writes Gregor Paul.
Steve Hansen is a big-picture guy - a coach with a vision that doesn't lack ambition. The challenge he has laid down for the All Blacks in the Rugby Championship is to repeatedly back up: to follow big performances with big performances, eliminating even the slightest fluctuations in quality to deliver relentless excellence.
Some might say this is already the All Black way, leading to their 85 per cent win ratio since 2004. Hansen doesn't agree. In his time as assistant coach, he saw many outstanding tests but there were blips; significant blips at times when the All Blacks weren't able to back up. Even in June, there was a massive drop in performance in the second test against Ireland after an emphatic win in the first.
"The greatest challenge is how do we improve ourselves?" says Hansen.
"If you can get to the point where the contest is against yourself, playing better, and you have the talent we have, then that is quite a scary thought process.
"I think the old chestnut [fluctuating performance] reared its head in June. We won the first test comfortably and the second test, we weren't great. We were poor. Look at us against France in 2007 - we managed to beat them and then we got into the quarter-final and played poorly. We can't hide from that.
"Somewhere in there, something is happening and subconsciously, I think, you are not preparing the way you normally would because you are thinking 'we have done this'.
"The test in Brisbane against Australia [last year] was a classic - we got beaten and the next time we played them, we were right up for it and the Australians didn't perform to the level they previously had. If we can master that and put back-to-back-to-back performances together, then we will have achieved something to be proud of. If we don't attempt it, we will never master it. "
Opening the campaign with consecutive games against Australia is the perfect way for the All Blacks to make a statement of intent.
There will also be an opportunity for the two sides to move their relationship to a better footing.
Inevitably, the Graham Henry versus Robbie Deans component of their clashes was hyped between 2008 and 2011. The story was too good to ignore and whether it was deliberate or otherwise, that perceived tension became real.
The All Blacks took exception to the way the Wallabies celebrated their first victory in 2008 and were again incensed when they won their next one - 10 tests later.
They thought the Wallabies went over the top in celebrating their 2010 win in Hong Kong. An invitation to enjoy a post-match beer in the All Black changing room was rejected that year as well and then there was the ongoing feud between Richie McCaw and Quade Cooper that became a major sub-plot of the World Cup.
Hansen, an easy-going sort, is all in favour of there being a rivalry but he'd like to see it become a little healthier.
"You are always going to get a little bit of an edge when you have a contest between big brother and little brother," he says. "That's basically what we have got with Australia versus New Zealand.
"I think some things at the World Cup did get out of hand. Quade probably didn't help himself by taking people on but he's a good rugby player. He's like all good rugby players; he's respected by us and we respect Australian rugby.
"That's why we always want them to have a beer with us afterwards. Do we enjoy victories over them? Of course we do, because they are Australia. But I think that is healthy: they are big brother.
"Do we want them to win when they are playing someone else ... yes, most of the time. What can destroy the relationship is when one side gets a little bit arrogant or doesn't play the game the way you expect them to play the game. Maybe there were a couple of times when that's probably happened.
"But this is a nation we went to war with and lost a lot of men together with. Half the country lives over there and I think Deansy is picking half those people that are available to be picked who live over there."
Just as important as resetting the tone of this old rivalry is the chance to establish a new one with Argentina. Ranked No 8 in the world and with no experience of tournament rugby outside of World Cups, Argentina are a wild card in the Rugby Championship. The educated view is that they will be competitive, tough to beat.
Hansen sees them as more than that: "They are a very good rugby side and have been for a long time. People might not know that they have beaten France more times than France have beaten them. Their home record is particularly impressive. Not many people go there and win. Their forward pack would be capable of playing any forward pack in the world.
"They actually have some outstanding backs but it is how they grow their game to bring in both those facets, and playing New Zealand, Australia and South Africa is only going to enhance their ability and raise their level.
"It won't take much, it will be good for the game and it is certainly going to challenge us."