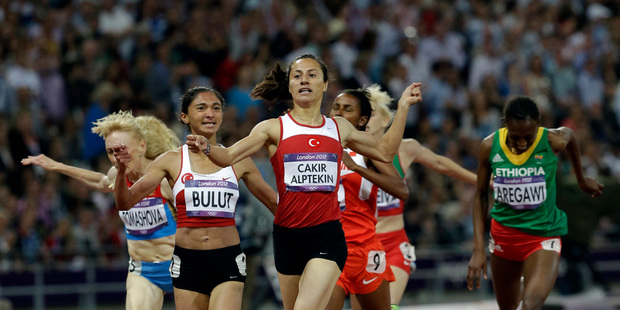 You can be forgiven for nodding off while watching the Games on TV this morning because the 1,500m women's Olympic final went down as the slowest in history.
The event was so pedestrian it was more than five seconds slower than the next slowest Olympic final.
Turk Alsi Cakir Alptekin strolled to victory with a time of 4:10.23 and even ran five seconds faster in the semi-final.
But the race was filled with drama when the favourite, American Morgan Uceny, took a tumble on the final lap.
Uceny was tripped from behind, landing hard on her right knee and hip. She smacked her palms against the surface before bursting into tears.
At last year's world championships, the Californian entered the race as one of the top runners. But she fell before finishing a disappointing 10th.
This time, there was no getting up.
Uceny's fall was a reminder of what happened to Mary (Decker) Slaney, an overwhelming favourite to win gold in the 3,000m at the 1984 Olympics in Los Angeles. In one of the most memorable moments in Olympic history, Slaney collided with barefooted runner Zola Budd and tumbled to the track.
In tears, her eventual husband, British Olympic discus thrower Richard Slaney, helped her from the track.
No one was all that sure what happened to Uceny. She was comfortably cruising along before crashing to the ground. British runner Lisa Dobriskey was tucked in right behind Uceny and didn't get a good look at what took place.
"Too many bodies running together and too comfortably," Dobriskey said. "I think someone got tangled up with her. She just went flying - with quite a big bang.
"But it wasn't me that clipped her. It was just too many bodies."
- Herald Online / AP