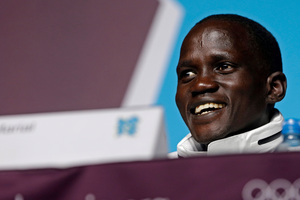 A refugee runner without a country will represent the whole world in Monday morning's marathon after surviving a war-torn childhood and being separated from his family.
Guor Marial will run under the flag of the International Olympic Committee because South Sudan, where he was born, does not have its own Olympic organisations, after splitting from the Muslim north of the country following a vicious civil war.
The 28-year-old has not seen his family for almost 20 years but said they will walk 40 miles to get to the nearest town with a TV to watch him compete. Marial now lives in Arizona but could not run for the US because he does not have a passport or citizenship.
- Daily Mail