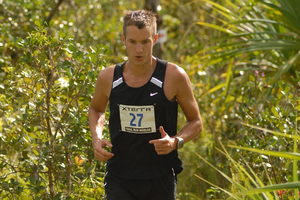 Ed Hyde is looking for a strong finish to the Xterra Auckland trail run-and-walk series.
With two events to go, the 33-year-old, who is general manager of mobile products for Telecom, is in second place in the super-long division and only seven points back from series leader Troy Harold.
Hyde, who was in the Great Britain junior road cycling team and raced competitively in cross-country and mountain bike events, has discovered a passion for off-road running since coming to New Zealand.
How long have you been involved in the Xterra series?
I had a break from competitive sport for almost 10 years but started to get fit again when I came to New Zealand in 2007. I was then talked into giving The Goat Mountain running event a try in 2009 and, while finding it tough, I really enjoyed it. It really reignited my competitive spirit and I gave Xterra a try for the first time in 2010. Later that year I won the National Xterra Championships and then placed 10th at the world championships in Hawaii.
What would it mean to you to win the Super-Long Series?
It would be a great feeling to win the series - this year consistency is, hopefully, going to pay off. For me, the biggest challenge is balancing a demanding job at Telecom with three young boys and finding the time and the energy for 12 or so hours of training a week. I think the secret is having my partner Niki supporting me.
How much training do you do every week?
As for training secrets I would say I'm still learning each year, but the key things for me are: consistency - I train most days; recovery - I find it tempting to try and do too much and then get injuries; specific training - I do lots of hill work and strength training because off-road running demands more than running on the road. My training has been going well and I'm getting faster each race so, hopefully, things are looking good for the series. I think Sam Manson is probably my biggest challenger for the overall and we have been close all season with him and I just beating each other at a few races this year.
What other events, other than Xterra, are you training for?
My plans for later on this year are the World Xterra Championships again in Hawaii this December where I'd like to have a crack at a top five, some more of the great events like the ones organised by Total Sport, and I might give the 70.3 Auckland Half Ironman a try in January.