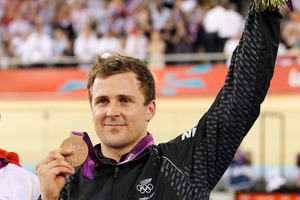 The Herald's team at the Olympics pick their one spine-tingling moment from the Games
David Leggat
Michael Phelps' last swim as an individual before retirement. He turned for home in the 100m butterfly final lying seventh, and mowed down those in front to win by a blink. He had been written off after losing his first final, but bounced back with a vengeance. This was a final defiant roar from the greatest.
Dylan Cleaver
The 100m final was special but nothing could beat the hairs-on-the-nape drama of the men's keirin final. The final event of the last night at the velodrome - the best venue at these Games - and the last chance for New Zealand to add to their men's team pursuit medal. The sight of Simon van Velthooven's blazered sprint teammates celebrating like they had won too was genuinely heartwarming.
Michael Brown
There's something a bit strange about seeing a knight of the realm crying but it was also powerful. The opening night of the track cycling, when they won gold in the team's sprint and set a new world record in the team's pursuit in front of rabid support, set the tone and reduced Sir Chris Hoy to tears.
Andrew Alderson
The opportunity to finally watch Olympic eventing riders live at the cross-country left me in awe, especially with Mark Todd and Andrew Nicholson in the saddle. Our team bronze deserves kudos. The courage attacking fences, the metronomic galloping and the fearless trust between rider and horse made for compelling viewing when reclining on the Greenwich Park embankments.
Troy Rawhiti-Forbes
The women's hockey semifinal between New Zealand and the Netherlands had drama and excitement of the highest order. Though the penalty shootout was a dreadful anti-climax, the regular time and extra time sessions delivered the best team sport experience of these Games.
Mark Mitchell
Standing at the side of the Eton Dorney lake I thought Nathan Cohen and Joseph Sullivan were gone. With 500 metres to go I was thinking 'silver'. Then they just took off. Wow. From my position you could see the boat take off as they put the hammer down. I still didn't think they'd do it. They proved me wrong. Terrific.
Brett Phibbs
That double gold medal day at the rowing was pretty special, backing up what Nathan Cohen and Joseph Sullivan did. Eric Murray, Hamish Bond and Mahe Drysdale were top guys. They deserved everything they got. All that training came together when it counted. Seeing that elation up close and personal down the lens was a treat.