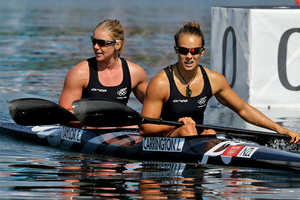 Kayakers Lisa Carrington and Erin Taylor created Olympic history on Dorney Lake but not in quite the fashion they wanted.
The K2 500 duo were the first New Zealand women to appear in a Games kayaking final but were out of medal contention, finishing seventh.
With the New Zealand flag painted on their thumbnails for patriotism and fingernails daubed in their favourite colours (Taylor passionate pink, Carrington racing red) they struggled to combat a field flying along at around 130 strokes per minute.
The German crew of Franziska Weber and Tina Dietze dominated from the outset, eventually beating double defending Olympic champions Hungary by 1.065s. Poland took bronze. New Zealand finished 4.077s behind the Germans. They were ahead of Serbia.
The Hungarian silver medallist crew included Natasa Douchev-Janics who is back from maternity leave and will be Carrington's key rival in the K1 200m.
The heats for that event start Friday night (New Zealand time) with the final Saturday night.
Taylor says she will be doing everything to help Carrington prepare.
"It can be lonely as an individual in this sport. I'll be doing everything I can to support her. I think she's enjoyed getting out there [in the K2 500] and getting those race feelings. I have every confidence in her fitness; in training she's going great. She keeps dusting me up over 200m in practice and I'm like 'wow'. It's exciting to watch her."
Originally the K2 500 had almost been viewed as a training aid for Carrington who, as the reigning K1 200m world champion, is an Olympic medal favourite.
However, when she teamed with Taylor at the World Cup in Poznan, Poland the K2 loomed as an outlying chance for Olympic medal success when they finished fifth, beating the world champion Austrians.
Earlier in the campaign Carrington said the presence of Taylor provided benefits.
"Having a teammate helps a lot with switching on and switching off. It's really important for us - you put your business hat on and then you go home, take it off and relax. I think it's important to really balance that out, or else you can get too highly strung and burn out."
Fellow New Zealander Teneale Hatton has finished 7th in the B final of the K1 500.