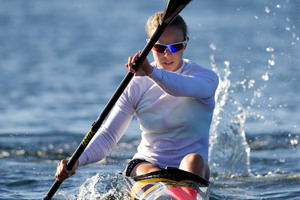 Canoeist Lisa Carrington will approach her race tonight like a time trial when she lines up in the first round of the K1 200m.
It will all be over in 40 seconds, possibly less, and it's a case of hoping she's quicker than everybody else.
"It's pretty simple," her coach Gordon Walker said. "There are no tactics involved. It's your own race. You go as fast as you can. It's like a time trial ... but with TV and lots of people watching."
There will be plenty of New Zealanders among that audience, with Carrington one of the favourites in canoeing's equivalent of the women's sprint. Paddlers attempt to get to the first can in the lead and then hope they can hold on.
The 23-year-old goes in as reigning world champion but a little has changed since she won her title, not least of all the return to competition of three-time Olympic champion Natasa Douchev-Janics, who also happens to own 18 world titles across various events.
The Hungarian took last year off to have a baby and has raced Carrington in the K1 200m only once, at May's World Cup event in Germany. It could scarcely have been closer, with Douchev-Janics winning by 0.09 of a second.
It's little wonder it's being billed as a rivalry but Team Carrington don't see it that way.
"She doesn't have a rivalry with Douchev-Janics," Walker emphasised. "She's only raced her once. We're not talking about a rivalry. She's just another athlete.
"The Olympics are a totally different environment and Lisa is at her first Olympics.
"She's won only one big race."
It was a pretty big one. Carrington won last year's world title in her first time at a world championships, surprising many in New Zealand who knew about her potential but didn't realise she was already that good.
Her win was not only the first by a New Zealand female paddler but it also helped repair the image of a sport beset by political infighting and personal squabbles. It still isn't immune, and Ben Fouhy helped stoke that fire with a broadside at the government funding agency after his Olympic campaign came to an end on Monday night, but Carrington is the best marketing campaign money can't buy.
She grew up on a diet of surf lifesaving having lived near the beach in Ohope and, following a training camp held by four-time Olympic gold medallist Ian Ferguson she was convinced by her father to attend, found she had a talent for canoeing.
"Winning the Olympics is my ultimate goal," she said recently.
"That's what I want to achieve.
"The Olympics is the pinnacle of our sport, so that would be fantastic, but it's also the hardest because everyone wants to win it. I'm just going to try to go as fast as I can but so will everyone else."
Carrington has spent most of the past two months based in Munich with K2 partner Erin Taylor and Walker as they put the final touches to their Olympic preparations.
Carrington has done all the physical preparation. The biggest challenge might be mental.
"You have to be able to handle the situation and try to relax and enjoy it," said Walker, who won three Coast to Coast multisport titles.
"You're doing something that you're naturally very good at.
"If you approach it that way, you can do well. But it's a challenge.
"We will find out [if Lisa can do that]. At this stage she proved that at the world championships but the Olympics is a different thing altogether.
"The K1 200 is a short event. Sometimes that means more pressure to get it right but, equally, less time to get it wrong."
- APNZ