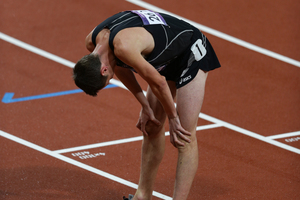 Nick Willis wants to continue his career through to Rio de Janeiro at his favoured 1500m distance.
Willis was at a loss to explain his final flop at Olympic Stadium yesterday, going as far as to say he was embarrassed by his performance when finishing ninth in 3:36.94.
Over the next few days, he would be reviewing his preparation that saw him post the fastest time of his career at Monaco less than weeks ago, that saw him run superbly and without stress during his heat and semifinal, yet which left him nothing in the tank when the surge went on in the final from 300m out.
After he crossed the line, Willis stood immobile on the track, hunched over, hands on knees, trying to figure out what went wrong and also trying not to retch. When he faced the media minutes later he was still battling the urge to throw up.
If anything, though, it has hardened his resolve for that not to be his Olympic swansong.
Willis, 29, sounds like he wants to make amends.
"I want to keep going for at least another four years," the Hutt Valley-raised, United States-based miler said. "Age is given as a number but my opinion is that people often end their careers because of financial reasons, as opposed to actual age. They're starting a family and it's time to get a real job sort of thing."
The 5000m is often considered a retirement home for broken-down milers. Willis this year briefly considered the move up in distance which puts more emphasis on strength and stamina than pure speed, but just as quickly discounted it.
"I'm still improving in the 1500m and I'm more competitive in it. The 5km, you really need to base yourself at altitude and that's not something I really want to do for my family and my personal life."
Willis has lived in Ann Arbor, Michigan, for the past 10 years, where he is married to Sierra.
He also had the chance yesterday to become the country's 100th Olympic medallist and become the first New Zealander to win two medals over 1500m.
His form in the lead-up suggested he was every chance. Instead he ran a race he said would have been hard for all those who had followed his progress - especially his wife and family and coach Ron Warhurst - to watch.
The 29-year-old did everything right in the star-studded final until the final 300m. When the field surged Willis looked like he was running in treacle, drifting towards the back of the 12-man field as Taoufik Makhloufi cruised home for the victory in 3:34.08.
Following Makhloufi home were American Leonel Manzano and Abdalaati Iguider, of Morocco.
Willis said he had given himself every chance of success with his race strategy, but when the kick came he had no legs.
"I conserved as much energy in the first two laps as possible," he said. "I felt like I was in the perfect position with 500m to go, but when the pace picked up and I went with it that was the extent of my fitness or what my legs could do today."
It reminded him of the final of the world championships in Daegu last year, when he went out to the front early but could find nothing when the field moved into hyper-drive.
"When the going got tough, it was just a bit embarrassing. I shouldn't be embarrassed; it's an Olympic final, something I dreamed about as a kid but knowing I came in with such good credential. I probably talked too much and it came back to bite me in the arse."