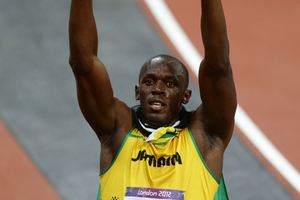 The London Olympics will be remembered as much for what happens off the track as on it. nzherald.co.nz reporter - and Player of the Year for his Greenhithe Football Club team when he was about 11 - Paul Harper sums up the incidents and controversy surrounding the games.

Bolt for United?
I hate Manchester United as much as the next non-Manchester United supporter. But if Usain Bolt was on the team sheet I may have to soften my stance. The Olympic champion sprinter would apparently leap at the chance to play for Sir Alex Ferguson's side.
"I would be the fastest player in the team - but I can play as well," he told the UK Press Associated. "I am in Britain for a few more days. If Alex Ferguson wants to give me a call he knows where I am."
So United defender Rio Ferdinand hooked the Jamaican up with a trial.
"If you want that trial at Man Utd shout me, I'll speak to the boss!! Well done in 100m, waiting for you to smash the 200m now!" he wrote to Bolt on Twitter.
He later tweeted: "@usainbolt the boss has just said for u to let me know when u want to come down for the trial..get your studs ready after the olympics bro!!"
The Daily Mirror has compiled videos of the 25-year-old to judge whether the sprinter has the football skills, determination, and temperament to make it in the English Premier League.
Their verdict: "Go on Fergie - sign him up!"

Bulges a "recurring problem for rowers"
Let's be honest, we've all noticed how some sports' uniforms cling to athletes' bodies in a certain area. Now one US rower has caught a lot of flak online for how his certain area looked during the bronze medal ceremony for the coxless fours (yeah, I know). I'm really not trying to be vulgar, but during the ceremony, Henrik Rummel's penis appears to be erect. If you really must see a picture, click here.
Rummel told sports website Dead Spin that rowers often have issues with how their tight uniforms display their package.
"This is a recurring problem with rowers. The spandex doesn't leave a lot to the imagination and there are many unflattering awards dock photos out there. I haven't heard of any erections occurring on the podium."
He denied it was an erection.
"If I did have one you can bet I would've tried harder to cover it up with the flowers. Those spandex are pretty tight fitting and whatever position it happens to be captured in, it's staying that way."

Safe sex good, unofficial condoms bad
An inquiry has been launched after "unofficial" condoms were found in the Olympic Village. Durex are the official condom supplier to the athletes, however a bucket of Ansell and Pasante brand condoms were found in the village, accompanied with the sign "Kangaroo condoms - for the gland downunder".
Aussie BMZ cyclist Caroline Buchanan posted a pic of the bucket on Twitter.
"Haha the rumors are true!" she wrote.
An Olympic organising committee spokesperson said they were looking into who was distributing the condoms, although athletes were allowed to bring their own supplies into the village.
"We will look into this and ask that they are not handed out to other athletes because Durex are our supplier," said the spokeswoman.

"Sank you Olympic Willage"
The Olympics are over for many athletes, but that has not stopped them making the most of the atmosphere and opportunities at the athlete's village. For Football Fern Sarah Gregorius that meant getting her pearly whites seen to.
"Sank you Olympic Willage for my free dental work, including the half day of lop-sided smiles, dribbling & extreme lisp. #justcositsfree," she wrote on Twitter.
Teammate Hayley Moorwood was also enjoying being in London.
"Now that I've had a few days to really soak up the Olympic Village experience, I can honestly say that this place is AMAZING. #TeamNZ"

Another win for Team GB
Australia's Sports Minister Kate Lundy will row the length of the Eton Dorney course - in a Team GB kit - after losing a bet with her British counterpart.
Lundy and British Sports Minister Hugh Robertson swore to don their rival's colours and row the course should the opposing minister's country win more medals at the London Olympics.
After a disastrous first week, Australia have bounced back and now have four gold medals - however they are far short of Great Britain who have 22.
Lundy posted on Twitter a pic of her receiving a Team GB shirt from Channel 4 News presenter Krishnan Guru-Murthy, after she conceded the bet was lost.

Feline Fan
And in breaking Olympics news, Taylor Swift has taken a pic of her cat watching the Olympics.
"She's actually watching the Olympics," she wrote alongside the pic, which she posted on Instagram.