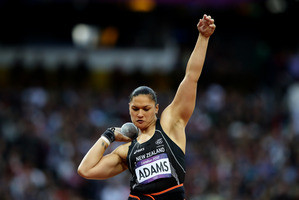 In the wake of Valerie Adams' silver-medal shot put performance here in London, journalists and headline writers have been harshly criticised by online readers for splashing the language of loss and failure over their reports.
Even in the high-pressure world of the Olympics, it's obvious the public wants sensitivity to be balanced with expectation. Mark Todd, at 56, can earn bronze with his equestrian team and get the journalistic equivalent of a pat on the back. Adams, no longer the Olympic champion, will be coming home with silver and apparently it's a reason to call in CSI: Athletics.
"The better athlete won," tweeted Steven @deepwebdesign Gardner. Sometimes it's as simple as that.
Adams' rival, Nadzeya Ostapchuk of Belarus, came to London in unbeatable form.
She executed throws reaching distances beyond Adams' personal best.
No doubt the registration error would have been stressful but, on her best day, Adams could not have beaten Ostapchuk here in London.
Silver medals appear to leave a bitter taste in at least one mouth each time one is awarded. Looking at the post-medals conferences, it's the gold and bronze winners who tend to look elated while the runners-up cycle through all sorts of emotions.
Adams expects first-place results and on this occasion she didn't achieve one. Of course she is disappointed. Does it mean she lost? It depends on which scale you're working with.
She is no longer the Olympic champion, but she outdid her own Beijing performance. In 2008, it was good enough for gold. In 2012, it gets silver. Adams still improved, but that's just how it is. She threw so far, but her rival threw better.
"Silver is no shame," tweeted Mike @HuuTheKiwi Green, while @LaurieFleming said Kiwis would be "delighted" with the medal.
New Zealand middle distance runner Nick Willis, who left Beijing with a silver medal in the 1500m, and (at the time of writing) was looking to go one better in this year's final, tweeted this view from his @nickwillis account: "At an Olympics, every place you get is earned - never lost. Val won silver for our country, awesome job."
Adams fronted up to media in obvious distress, and at no point did she carry herself without dignity. The final word is hers: "I'm disappointed with my performance, but to take home silver, I'm pretty happy."
TWEET OF DAY
Ah Valerie, broke my heart to see you near tears on podium. Don't be sad, you are amazing and we are all so proud of you. @WardrobeFlair