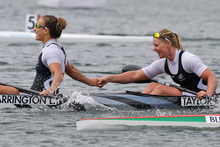 Lisa Carrington's main event might be later in the week but she warmed up for that by teaming up with Erin Taylor to qualify for the final of the women's K2 500m on Tuesday night.
The pair finished fourth in their semifinal to move through to Thursday night's (NZT) final but they will need to find extra speed if they are to medal. They will gain confidence from the fact they weren't far off the pace in a difficult semifinal, with two-time Olympics champions and gold medal favourites Hungary, Germany and Poland all lining up beside them.
Their time of 1:42.764 would have placed them third in the other semifinal but they admitted afterwards they had to toil to progress.
"We worked so hard,'' Carrington said. "My arms are so sore. My arms were spinning in the last 50m. It's nice to get that pay-off [by qualifying for the final]. Wednesday is going to be judgement day so we are excited for that.''
Carrington and Taylor were optimistic about making the final going into the Olympics and have made good progress as a combination over the past 12 months. It helps when you have a world champion in one of the seats.
"We will have to step it up again in the final,'' Taylor said. "Going into that race we were pretty nervous. We knew we drew a really hard semi because we thought there were five crews fighting it out. We wanted to execute our race plan and put it all out there and hope that would be good enough for us to get through. We are really stoked and smashed. We are happy to come away with that result.''
Fellow Kiwi Teneale Hatton was also happy to qualify for the B final in the women's K1 500m after finishing fifth in her semifinal. The 22-year-old, who has been tagged as a possible medallist in Rio in 2016, made a late run for Olympic qualification and confirmed her potential.
"My target was to show I had improved from last season and put all my training into practice,'' she said. "I nailed my start and I was right up the front. I stayed in touch with the field and that's all I wanted. It was a high-class field.
"I want to set a PB [in the B final] and show my improvement. I am in the top 16 now and I just want to get closer to the top eight.''
Carrington will go head-to-head with three-time Olympic champion Natasa Douchev-Janics of Hungary, who took last year off to have a baby when Carrington won the world championships, in the K1 200m when it starts on Friday night (NZT).
By Michael Brown

Email

Michael