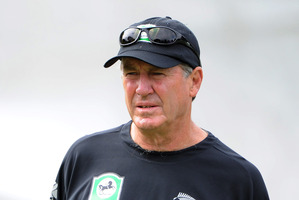 Outgoing national coach John Wright has urged the struggling New Zealand batsmen to take greater personal responsibility and be tougher on each other, as they search for ways to improve their test cricket form.
Wright's 20-month tenure in charge of the Black Caps finished this week in the Caribbean as he watched his side stumble to a 2-0 test series loss to the West Indies. The batting again let the tourists down, and the former test opener today said the players had to be harder on themselves.
"That's a particularly important part of that process. You have to have self-responsibility and be accountable for your actions in the middle and you just can't come off and wave it away with phrases like 'it's the way I play' and 'I didn't quite execute' etc, etc. It's a brutal game at the international level and you have to be very brutal in your self-analysis and really honest," Wright said.
"The other aspect is it's always very helpful if your teammates are brutally honest with you and if you play a particularly inappropriate shot at any stage then you know if you go back in to that changing room you're not going to get exactly 'the welcome' and that's the sort of environment you need to create.
Ruthless self-analysis combined with pretty strong standards and peer pressure from your fellow teammates and that's something that I think is an area we can grow in."
As for how the Kiwi batsmen could be better, Wright added: "I think we've got to look at two aspects and I was reflecting on it today. It's basically the players have to understand that it's no use to make the same mistake over and over again. You've got to learn from your mistakes and the other issue is strike rotation ... I think that's one of the key skills that the players have to practice and learn because getting the singles will get you to the other end and it doesn't allow that pressure to be built up by facing a number of dot balls."
Only one New Zealand batsman has made a test century in their past five outings, with Kane Williamson's unbeaten 102 against South Africa in March the only ton, and the lack of runs from the Kiwi top order has put too much pressure on their young bowling unit.
New Zealand's next assignment is a two-test and two-Twenty20 match tour of India later this month, which will be new coach Mike Hesson's first tour in charge of the side.
Wright backed his now former charges to perform in the sub-continent against the Indians and said the tour of the Caribbean had given them an insight on how to play quality spin bowling on slower wickets.
"I would hope now that the batsmen have had a bit more cricket and in the conditions that are going to be similar to India. So now they've had more time at the wicket they'll be able to have a good look at this tour and hopefully get some time just to better their game and get up there."
Hesson will have it all ahead of him as he tries to turn around a failing batting line-up.
- APNZ