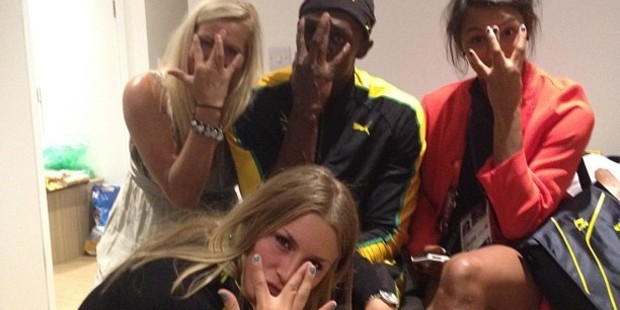 Usain Bolt relaxed after setting an Olympic record in the 100m men's Olympic final by partying with three fans from the Swedish women's handball team.
Bolt tweeted out a picture of himself with handballers Gabriella Kain, Isabelle Gullden and Jamina Roberts.
The trio had decided they wanted to meet Bolt and convinced his manager to provide accreditation to get to Bolt's apartment.
They later said on Facebook they had chatted and laughed for several hours until around 3am.
Bolt, who has over a million twitter followers, tweeted a picture of himself from Instagram saying "A gaza (in Kingston) we say hmmm mmm."
Elsewhere Jamaicans celebrated both the Bolt victory and the Caribbean nation's 50th anniversary of independence from British rule.
Thanks to the efforts of victorious sprinters Bolt and Shelly-Ann Fraser-Pryce, Britain's Jamaicans are walking with an extra spring in their steps.
In Britain, anniversary celebrations took place in London, Manchester, Huddersfield, South Wales and Birmingham. "It's like a big party at the moment," said Prince Morgan, dressed in Rastafarian colours.
But amid the celebrations, he had a word of caution about the nation's future. "Are we truly independent? The head of state is still the Queen," he pointed out, noting growing calls for a Jamaican republic. Usain Bolt for president?
- Herald Online