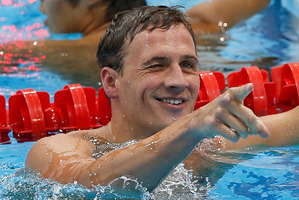 Swimming champion Ryan Lochte celebrated his Olympic haul with a night out at Chinawhite nightclub before leaving at nearly 3:30am and piling into a taxi with friends. Photo / AP
When darkness falls in London, another endurance contest begins among the Olympic athletes.
The winner? The last one standing in the capital's exclusive bars and clubs.
Early yesterday morning was no exception, with American swimmer and overnight heartthrob Ryan Lochte, 28, seen among female admirers and teammates in the VIP area of West End club Chinawhite, a £2,000 cocktail in his hand while he watched teammate Tyler Clary play DJ.
Also at the venue were Team GB's rowing gold medallist Sophie Hosking and silver medallists Richard Chambers and Mark Hunter, along with cycling gold medallist Dani King - although King's boyfriend might not be invited back after he made an obscene gesture as he left.
The race to be the party venue of choice for the Games stars has been as hard-fought as any track event, but it seems Chinawhite is already taking the gold.
The visit from Lochte and his contemporaries came after Rebecca Adlington was pictured leaving the club looking bleary-eyed at 3.45am on Sunday.
Zara Phillips also partied at the venue after she won a silver medal with the British equestrian team.
The Queen's granddaughter was spotted drinking Veuve Clicquot and dancing with no shoes on until becoming the last to leave at 4am, an hour after the club had officially closed.
Usually the preserve of footballers and reality stars, Chinawhite has been taken over for the duration of the Games by Australian event organisers The Last Lap, which ran exclusive parties during the Sydney Olympics in 2000.
The top floor is reserved for VIPs and has a red carpet where athletes can show off their medals and makeovers to photographers.
Downstairs, there is another exclusive area behind the main dancefloor, where the sportsmen and women are handed free drinks and can dance to pop music without being bothered by fans.
Zara went to the club last Wednesday with brother Peter Phillips and equestrian eventing teammates William Fox-Pitt, Nicola Wilson and Tina Cook.
When asked if British clubbers could match the partying ability of Australians in the bar, the 31-year-old royal said: 'We rival you on that. You wouldn't win gold.'
British swimmer Adlington was at Chinawhite on Saturday night, helping herself to free drinks until almost 4am and at times sipping directly from the bottle.
Her teammate Elizabeth Simmonds also stumbled out of the club in the early hours, after declaring that it was 'time to party'.
On Sunday night, Hosking, who with partner Kat Copeland won gold in the women's lightweight double skulls on Saturday, appeared slightly more reserved, although the 26-year-old was seen being thrown into the air by fellow rower Alex Partridge.
King, meanwhile, was pictured leaving on a rickshaw, grabbing her boyfriend as he showed his buttocks to photographers.
Among the freebies lavished on the athletes is the 'golden cocktail' given to any gold medallist, worth £2,012 and made of Hennessy Paradis Imperial Cognac and Luxor 24ct gold-leaf champagne.
Former Olympian Rob Woodhouse, who started The Last Lap club nights, said: 'Having competed for their countries on the highest stage we want to provide the very best in entertainment.'.
- Daily Mail