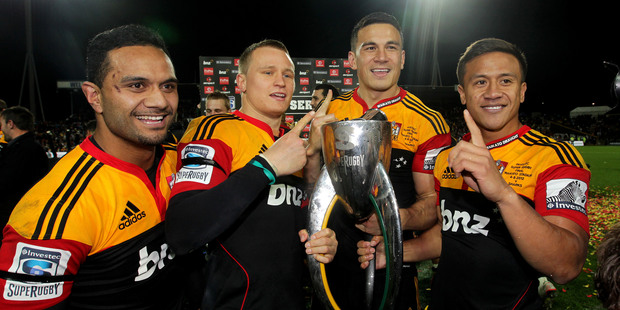 The Chiefs became the third New Zealand team to claim a Super Rugby Championship, while the Sharks are officially the bridesmaid of the competition having been runner-up on four occasions now (previously equal with the Crusaders and Brumbies as three-time losing finalists).
Dave Rennie became the first rookie coach to win a Super Rugby championship.
This match threatened to be a kick-fest with a total of thirty seven kicks from hand in the first half, with the Chiefs putting the ball to boot twenty two times in that opening forty minutes. Thankfully the ball was kept in hand in the second half with just seven kicks from the Chiefs and eight from the Sharks.
Handling errors were a real problem for the Sharks with thirteen knock-ons and five pass errors all leading to turnovers in possession. Worst offenders were Patrick Lambie, Keegan Daniel and Paul Jordaan, all with two handling errors.
The Chiefs made nine knock-ons in the wet conditions, with Tawera Kerr-Barlow making three.
The Sharks marginally won the breakdown turnovers six to five, with Bismark du Plessis winning two in the first half of the game.
The Chiefs made seven linebreaks to two, with Sonny Bill Williams the top linebreaker with three.
Robbie Robinson made the most gain in ground in this match with a total of 119 running metres, and also made the most tackle off-loads with five.
The Chiefs made 89 percent of their tackles and only missed a total of ten tackles in this match, whereas the Sharks only made 75 percent of their tackles and also had to make twice as many as the Chiefs.
Liam Messam was the top tackler with 18 and also made thirteen ball carries for a total of 82 metres gained, including a 29 metre linebreak in the 72nd minute of the game.
No major issues for the Chiefs' lineout this time, winning seven of their nine throws with Craig Clarke stealing one from the Sharks' throw. Mahonri Schwalger threw one not-straight.
The Sharks won all but two of their nine lineout throws with Ryan Kankowski their main target, winning six throws plus a steal off the Chiefs.
Aaron Cruden ended the 2012 Super Rugby season as the leading points scorer, with his seventeen points against the Sharks taking his final points tally to 251 for the season.
There were only thirteen penalties awarded in this game, the Chiefs conceding seven while the Sharks conceded six. The Sharks did not concede their first penalty until the 28th minute of the match.