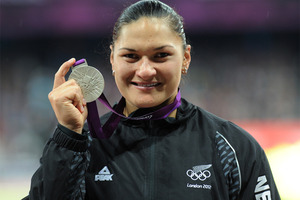 Valerie Adams' reign as Olympic champion is over.
The South Aucklander came second this morning, New Zealand's eighth medal of these Games and first silver, but the 27-year-old could not get close to an outstanding series of throws from Nadzeya Ostapchuk.
"It wasn't my best competition today," a tearful Adams said. "I put my heart out there trying, but it just didn't come together. It's life, it's sport."
Adams was the unwitting recipient of a clerical error on the part of the New Zealand Olympic Committee, that saw her name missing from the start list yesterday. That mistake didn't cost her a place in the field, or cost her any places in the competition, but it did leave a bad taste.
"It placed a little more stress. It's the sort of s*** you don't need to deal with," she said, putting it into the hands of her manager Nick Cowan.
It might take a while before the steam stops coming out his ears, but he'll know that even the smoothest preparation wouldn't have affected the result - 66cm is a massive margin.
When the Belarusian's second throw went out to 21.31m, Adams must have had a sinking feeling. Her personal best, set at the world champs in Daegu last year, was 7cm shy of that. When Ostapchuk went even further on her third throw - 21.36m - the gold was as good as gone.
Ostapchuk has been throwing some extraordinary distances this season. All were set within her home borders and there was still a general belief that when it came to a head-to-head battle with Adams in London, the big New Zealander would still stare her down and win.
That confidence was misplaced: the simple truth is that Ostapchuk is just in superb form.
"You've got to give credit to her," Adams said. "It's her day. I had to concentrate on what I was doing. I'm disappointed but I'm pleased to have won a medal for my country."
Valerie Adams laid down a marker early. Her first throw of 20.61m was easily the best of the first round. Ostapchuk replied with a lacklustre 20.01m, but it was a false reading.
Her sequence after that - 21.31m, 21.36m, 21.15m and 21.32m - meant her victory was fully justified.
Adams looked rattled. She stood out of the circle on her second, fourth and fifth throws, while getting out to 20.70m with her third effort and 20.24m with her final attempt.
She could be seen swapping pained glances with coach Jean-Pierre Egger, trying to get a handle on what was going wrong.
On completion of her final throw, Adams' briefly put her head in her hands then hugged her opponents.
Russian Evgeniia Kolodko won bronze with her final throw.
It is athletics 21st medal, drawing them level with rowing who had gone one ahead with their haul of five on Dorney Lake.