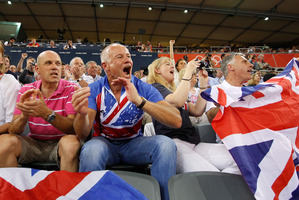 The Brits don't know what to do with all their new heroes. But the Aussies just want to know where their heroes have gone.
"It's 1984 all over again," said an Australian journalist at the velodrome, and she wasn't referring to Orwell's dystopian nightmare.
She meant the Los Angeles Olympics, when an embarrassed Australian Olympic team returned home with only four gold medals.
As of the end of Saturday (UK time), Australia had won only one gold medal - the women's 4x100m freestyle.
This is causing some anxiety because the pool is usually a rich source of medals for the Australians, as is the velodrome. Discounting what may have happened overnight, they have ceded superiority to their "Ashes" rivals, Great Britain.
The media have taken great pleasure in dumping from a great height on the non-performing swimmers, especially the self-styled Weapons of Mass Destruction, as the 4x100m men's relay team were dubbed.
But on the whole, they're bearing up pretty well.
"Anyone wondering where we are on the medal tally?" asked the Sydney Morning Herald. "Well, I'm pleased to say we've rocketed into outright fourth place ... behind just China and Russia, and hot on the heels of the USA."
Below was a table of the silver medal tally, which showed Australia on 12. Every cloud and all that ...